After nine days of unplanned rest in Plankinton, South Dakota, Kim and I resumed our year-long RV trip around the United States. We drove slowly at first, unwilling to put too much stress on the motorhome's new engine. With each passing hour, however, our confidence grew. By the end of the day, Bigfoot was humming along smoothly while cruising at full speed.
Before the RV broke down, we'd been on our way to meet Joel and Aimee, a couple of my old friends from Portland. For a time during the early 2000s, they'd been two of my closest friends. But they returned to the Midwest over a decade ago so that Joel could attend medical school. They're now settled in a quiet town outside St. Cloud, Minnesota, where they're raising a charming little family.
While Kim remained "home" in the RV — she'd caught whatever bug I'd been fighting during our two weeks in South Dakota — I spent Friday evening laughing and reminiscing with Joel and Aimee and their precocious daughter Adelaide.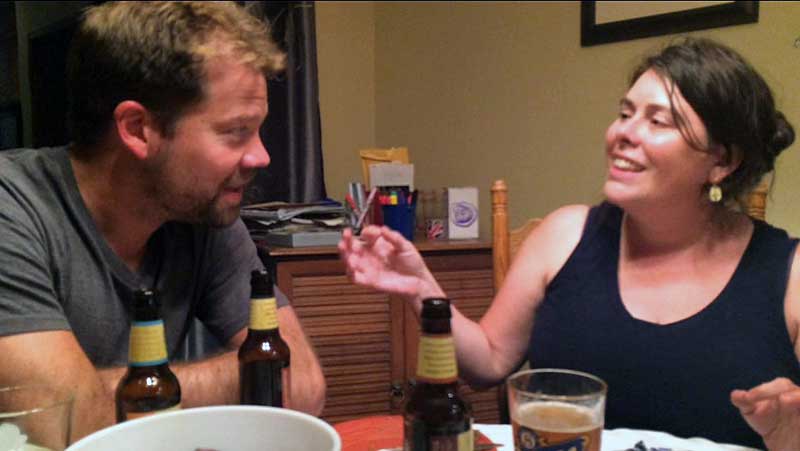 I enjoyed my evening with Joel and Aimee. It felt like old times…
The next morning, Kim and I made a quick stop to pick up our mail in Garrison, Minnesota (where we'd originally intended to meet Joel and Aimee at their lake house the weekend before), then drove north and east to Duluth.
During their early twenties, Kim and her then-husband moved from central California to Bagley, Minnesota in order to experience another part of the country. But they were young and broke. They didn't get a chance to explore the state as much as they would have liked. Kim always wanted to visit Duluth — which is where one of her best friends grew up — but never had the chance. Now, two decades later, this was one area of the U.S. she didn't want to miss on our RV adventure.
Duluth is a major port city — once even larger and more important than it is today — on the southwestern corner of the vast Lake Superior. (Lake Superior is the largest freshwater lake in the world, by surface area. It's the third-largest by water volume.) Across the tip of the lake from Duluth is sleepy Superior, Wisconsin, where we scored the last RV spot in a state park a few miles out of town.
To start our stay, we decided to drive up the Minnesota shoreline of Lake Superior. All of our trusted guidebooks (and some of our friends) recommended the North Shore Lake Superior Drive as beautiful and not-to-be-missed. We were unimpressed.
We didn't find the drive nearly as beautiful as we'd been led to believe. This is unusual. We've gone out of our way to do several similar scenic drives on this trip, and they've all been spectacular. This one was meh. We don't understand what all the fuss is about. Still, we had fun.
We stopped in Two Harbors to look at the lighthouse and watch the harbor in action. While there, we sampled beer at Castle Danger Brewery and strolled the streets looking at chalk art. (We'd managed to hit the town's annual chalk art festival.) Then we resumed our drive north and east along the shore of Lake Superior.
By late afternoon, we'd reached Grand Marais. "I don't really feel like driving farther," I said.
"I'm so glad to hear you say that," Kim said. "I'm done. Let's just stay here for the night." So, for the second time since we started our journey in March, we chose to stay in a hotel room. We're glad we did.
By stopping early, we had a chance to see some of Grand Marais. We ate early, which gave us a chance to chat with the staff at the restaurant. We listened to live music. We bought donuts for the morning. We walked around the town in a futile quest to find a bottle of wine on a Sunday evening. No matter! Kim and I returned to the hotel, where we picked up free supplies for making s'mores on the beach. We watched the sunset while munching on graham crackers and chocolate. (I shared our treats with the local geese.) And, as luck would have it, we met a few other hotel guests who were happy to share their wine with us.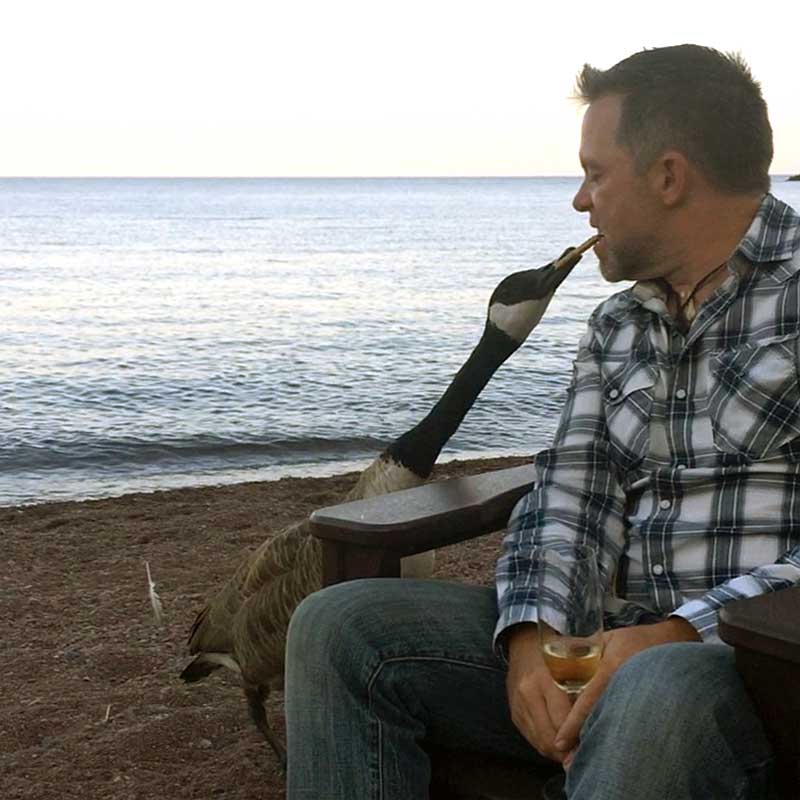 Geese are friendlier than people think…especially where graham crackers are concerned.
Although we didn't appreciate the "scenic drive" along the northern shore of Lake Superior, Kim and I enjoyed the area in an and around Duluth. We liked it so much, in fact, that we decided to extend our stay by a couple of days.
After driving back to the RV, we spent one day walking all over Duluth, exploring the old downtown and strolling along the harbor walk. We shopped at thrift stores for new clothes. (One side effect of this trip has been expanding waistlines for both of us. We're both a bit doughy, I'm afraid, and we needed some clothes that fit better.) Then we stopped and expanded our waistlines a little more by drinking beer while watching the famous liftbridge do its thing in the harbor.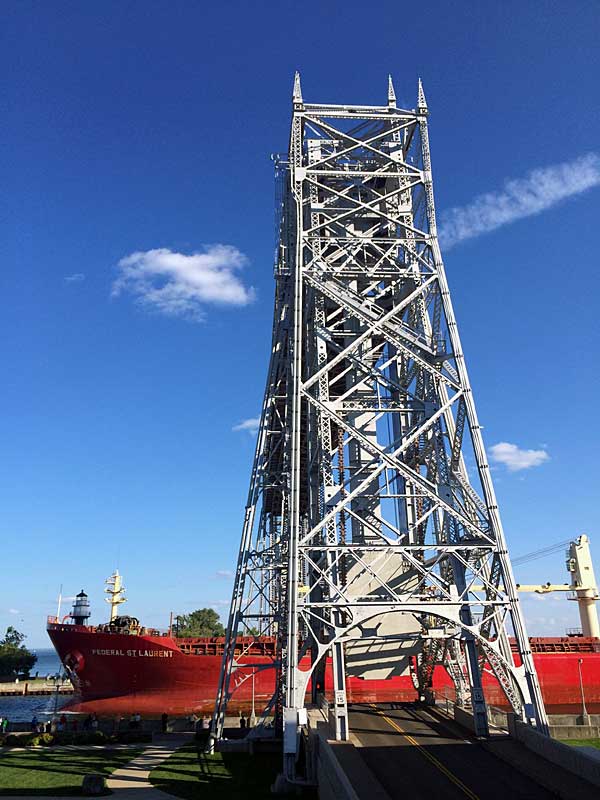 It's fun to watch the liftbridge, especially from the deck of Grandma's Saloon.
Another day, we drove to Bayfield, Wisconsin, a charming little town that acts as the gateway to the Apostle Islands. This archipelago was formerly home to hardy hermits, fishing camps, and logging companies. Now most of it is owned by the federal government and protected as a National Lakeshore. The locals endorse the Apostle Islands as a beautiful gem in northern Wisconsin.
Kim and I took a boat tour of the islands and again we were unimpressed. Except for one notable exception — which I'll mention in a moment — these are small islands covered with trees. Perhaps they're beautiful in comparison with the rest of Wisconsin, but they're typical of what we see daily in the Pacific Northwest. To us, the islands seemed unremarkable.
Except, that is, the sandstone cliffs and arches and caves on the north side of Devils Island. After more than ninety minutes of travel from Bayfield, our boat eventually reached this point, which is indeed lovely to look at.
And apparently the caves are fun to visit in the winter, too. On Facebook, Barb Drees shared this photo of what the area looks like once the lake ices over: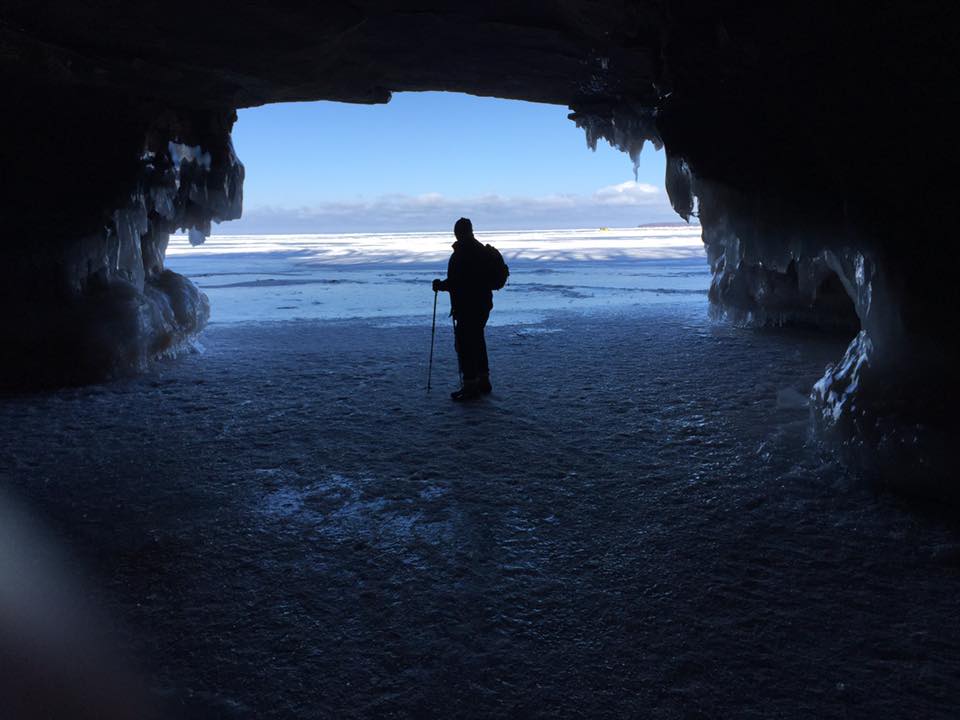 The Apostle Island seacaves in winter… [photo from Barb Drees]
Re-reading this travelogue, it sounds a little whiney. That's too bad. Kim and I enjoyed our time on Lake Superior, don't get me wrong. We liked the people and the pace of life. Duluth was more interesting than we'd anticipated, and the small towns around the shore were fun to visit. But at the same time, the terrain wasn't nearly as pretty as we'd been led to believe. Perhaps we've become spoiled by the massive grandeur of the western United States, where nature is gaudy rather than subtle.
After a week on the shores of Lake Superior, we turned south toward Wisconsin and Chicago and points beyond…
Footnote
Time for more whininess. Our first stop after turning south was also disappointing. We camped near the
Wisconsin Dells
, which we'd heard was a spectacular sandstone canyon running through the center of the state. Maybe it is — or was. Now the area is a popular center for family entertainment. There's nothing wrong with that, of course, except that we weren't expecting to find "Las Vegas for kids". We weren't expecting miles of waterparks and souvenir shops and chain restaurants and kitschy museums.
The canyons, which were the area's first claim to fame, are still there, but they're buried under a massive layer of commercialism. Maybe we were shocked because we hadn't seen anything like this since southern California. We'd become accustomed to the slow pace and quiet commerce of the Rockies and the Plains. We suffered some culture shock to be back amongst this sort of self-indulgence.