After a week on the shores of Lake Superior, Kim and I made our way to another great lake, Lake Michigan. There, over the course of a couple of weeks, we made our way almost completely around this vast body of water.
We started our tour of Lake Michigan in the small town of Oostburg, north of Milwaukie and south of Sheboygan. My friend (and colleague) Jim Collins had invited us to visit him and his wife at a family vacation house on the edge of the lake. Kim and I only intended to stay for one night…but we enjoyed the company of Jim and Jane (and her sister Jo) so much that we stayed for three.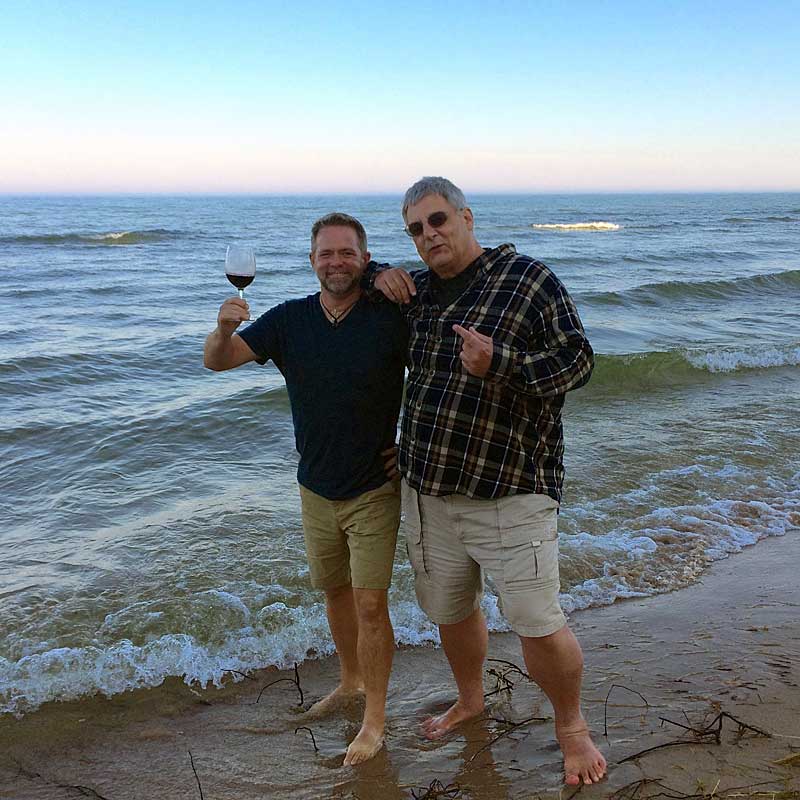 J.D. and Jim, walking the shores of Lake Michigan…
We didn't do much touring during our visit to Oostburg. I met travel blogger Gary Arndt for lunch one day, and we visited the Kohler Design Center (which was more interesting than you might expect from a manufacturer of plumbing fixtures). But mostly we lounged around, sipping beer while chatting about money and travel.
Reluctantly, we waved good-bye to Jim and Jane (although we'll visit them again in New Hampshire, and we'll see Jim soon at Fincon in North Carolina). We made the short hop north to Wisconsin's famous Door County peninsula, land of cheese and cherries. And wine.
Kim and I snagged the last spot at a campground — an ongoing theme of this trip — in Sturgeon Bay. We then spent an afternoon tasting Wisconsin wines. I'm sorry to say that we were not impressed. Perhaps we've been spoiled by the great wines in Washington, California, and Oregon. Whatever the case, we found the wines of Door County cloyingly sweet. The climate isn't conducive to common varietals (like chardonnay and cabarnet sauvignon) but the wineries try to grow them anyhow. We both felt the region should stick to something it does well: dessert wines. Fortunately, the vodka and whisky at Door County Distillery were pretty darn tasty.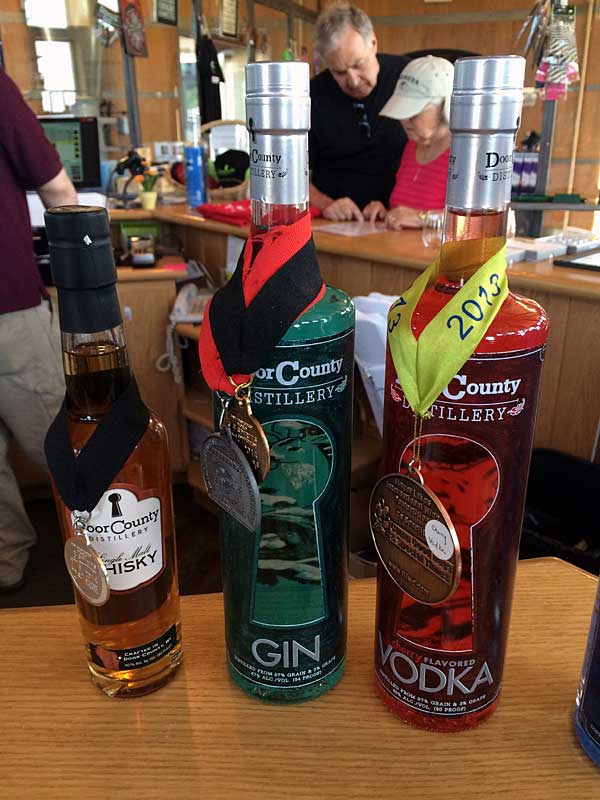 The next day, we undertook a rare marathon leg up into Michigan's Upper Upper Peninsula, over the Mackinac Bridge, and down into the homeland of Ernest Hemingway.
Note: In general, we try not to travel more than six hours in any one day. When we're on the road too long, we both get punchy, and that can lead to mistakes and/or short tempers. Four or five hours per day is best. Our journey from Wisconsin to Michigan lasted eight hours and 350 miles, making it the second longest leg of this trip.
For the next couple of days, we explored the region around Petoskey and Charlevoix. Once again, we tasted the local wines, which we preferred to those in Wisconsin. I got homesick for the second time since leaving Portland. The rolling hills in northern Michigan reminded me of Oregon's Willamette Valley, as did the trees and the farms.
Our next stop on the shores of Lake Michigan was the small town (village?) of Interlochen. Originally, we'd intended to use this as a base to explore Traverse City, a place that came highly recommended from several friends. But when we settled at Interlochen State Park, we discovered that we were just across the street from the Interlochen Center for the Arts and its summer concert series. The Beach Boys played during the first night of our stay; on the second night, we splurged to buy some of the last tickets for Harry Connick Jr.'s sold-out show.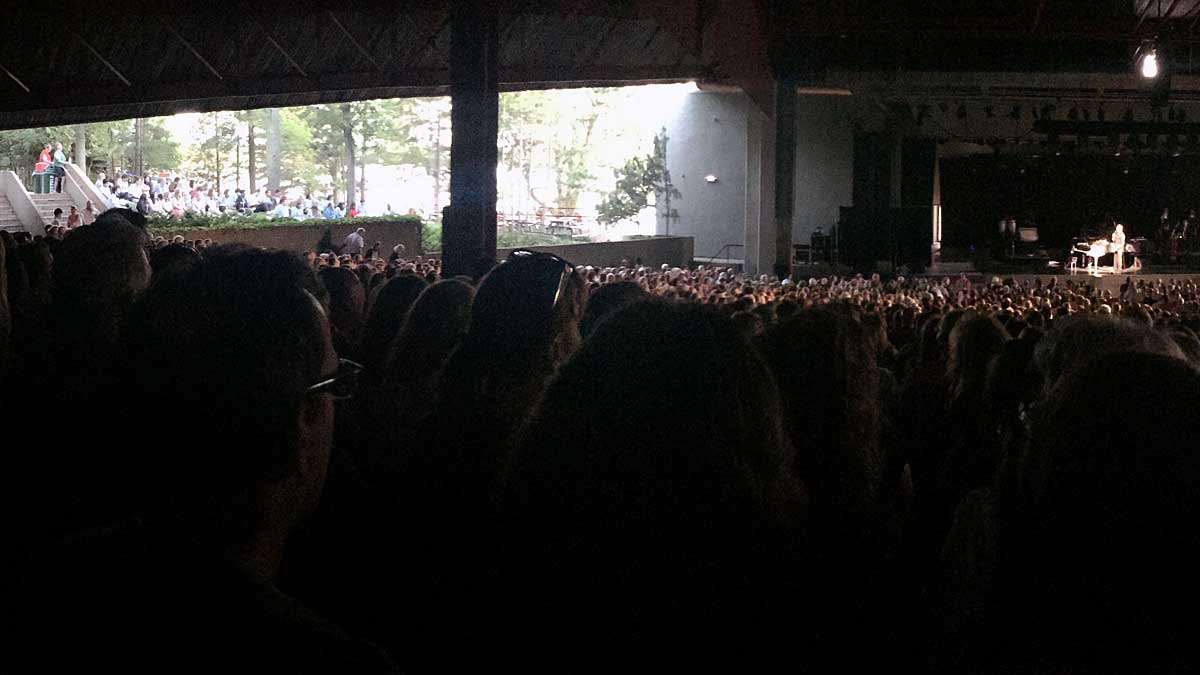 While most of us paid for tickets, the students got to watch for free from the lawn…
After our stay in Interlochen, we packed camp and headed south toward Indiana. For the next week, we'd stay in Amish country outside Shipshewana (see our next post), but that we weren't quite finished with Lake Michigan.
Mid-week, we took a vacation from our vacation and made the two hour drive into Chicago. Although I'd visited the Windy City twice before, Kim had never seen it. I wanted to give her a whirlwind tour. For just the third time on this trip, we rented a hotel room. Over twenty-four hours, we did as much as we could: the Field Museum of Natural History, shopping on the Magnificent Mile (including popcorn at Garrett's), deep-dish pizza at Lou Malnati's, and the amazing river tour put on by the Chicago Architecture Foundation. The highlight of the excursion was dinner and drinks with Shannyn (from Frugal Beautiful) and her boyfriend Aaron.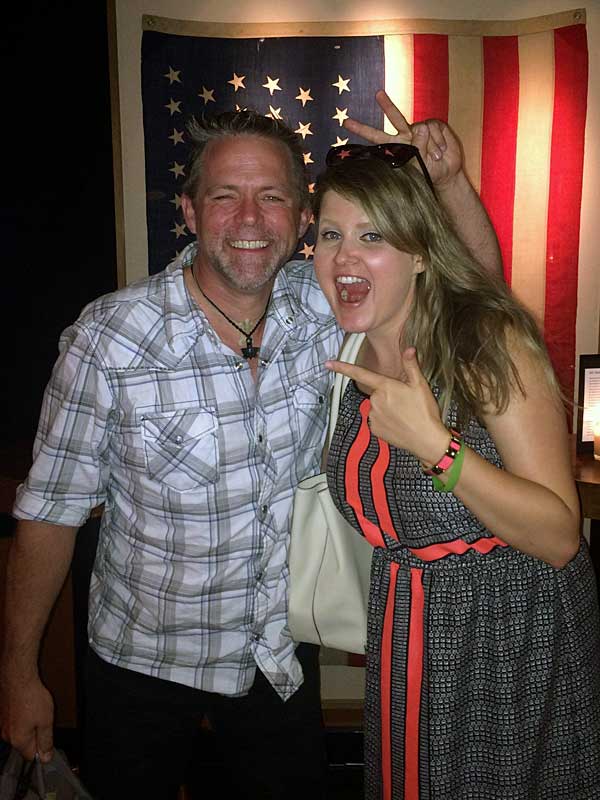 Hanging out with Shannyn from Frugal Beautiful…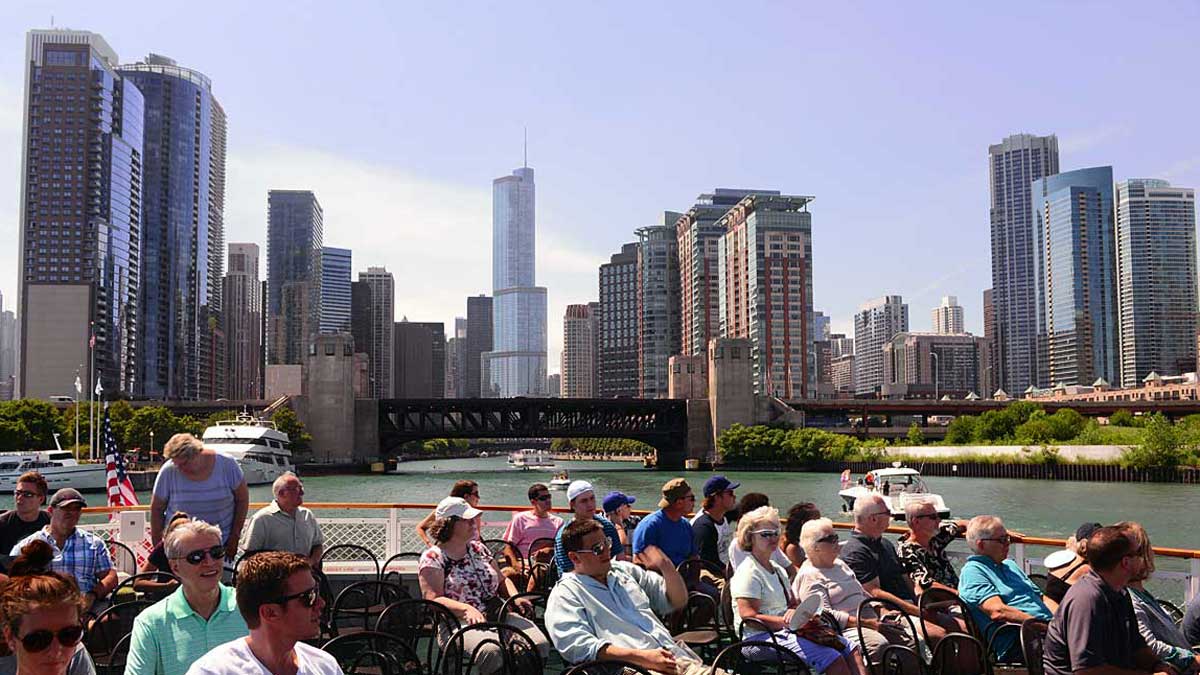 The river tour of Chicago's architecture is an excellent way to learn about the city.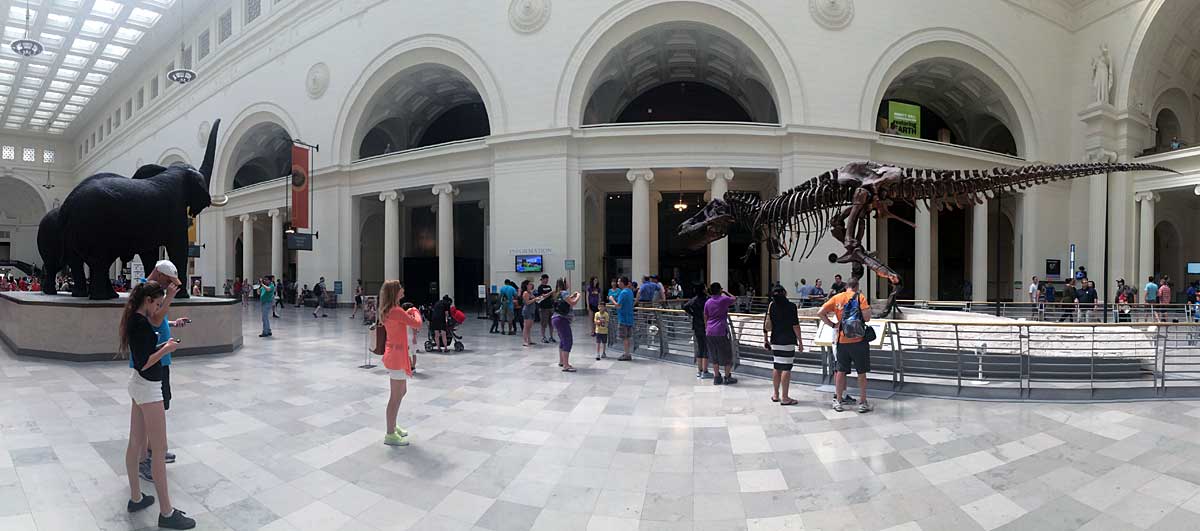 The Field Museum has many fun exhibits, including the most complete T-Rex in the world.
Before we said good-bye to Lake Michigan, we made one final stop. On the drive back to Indiana, we veered north into Michigan once more to visit The Prized Pig, a new barbecue restaurant in the town of Niles, north of South Bend (and the University of Notre Dame). This place — which serves delicious food — is run by Jeremy Vohwinkle, who used to write about saving and investing at Gen X Finance. Jeremy was a great blogger, but he's an even better barbecue cook!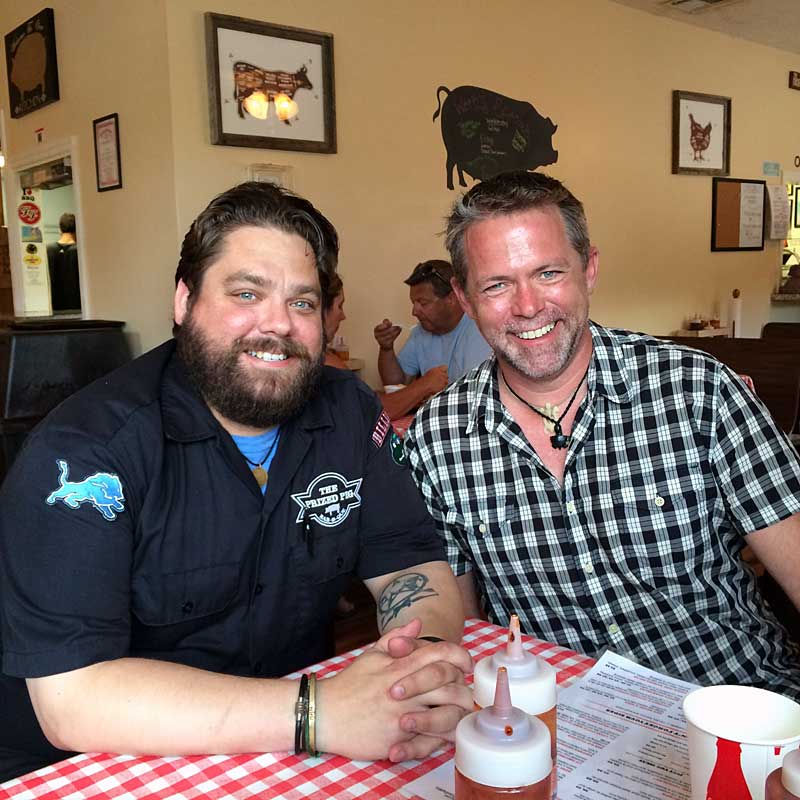 The Prized Pig may have the best barbecue in Michigan.
Over ten days, Kim and I saw several sides of Lake Michigan. We were impressed. As much as we enjoyed our time on the shores of Lake Superior, we liked its neighbor to the south even better.