After nineteen days in Arizona and five in Utah, Kim and I made the short drive to Cortez, Colorado in the southwest corner of the state. We spent a week in and around the San Juan Skyway.
The San Juan Skyway is a roller-coaster ride through Colorado's San Juan Mountains (a part of the larger chain we call the Rockies). For 236 miles — more if you add side excursions — the highway winds past cliff dwellings and ancient ruins, modern Native American art and culture, historic mining sites (and ghost towns), waterfalls, hot springs, and more.
Three times, the Skyway climbs to heights over 10,000 feet. (Red Mountain Pass between Ouray and Silverton reaches 11,018 feet. Lizard Head Pass between Rico and Telluride reaches 10,222 feet. And Molas Pass between Silverton and Durango is 10,910 feet.)
We've traveled several scenic byways on this trip, but this is the first that we'd enthusiastically recommend as a vacation destination. There's so much to see and do on the San Juan Skyway that it's worth seeking out. You can travel the loop in a day, or three days, or — as we did — in a week.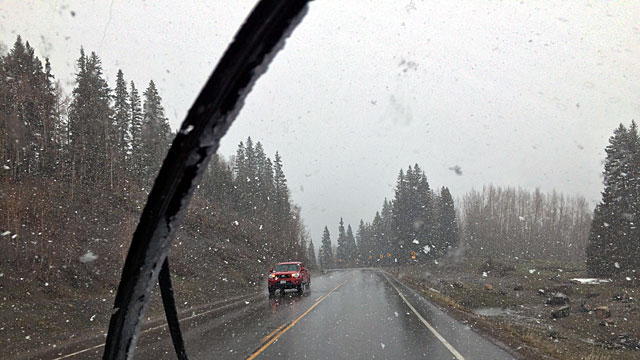 Crossing Lizard Head Pass from Cortez to Telluride
As I mentioned, the San Juan Skyway is a loop, which means you can start in one of many locations. If you're coming from Denver (about 5-1/2 hours away), you'll probably start the loop in Ridgway or Ouray. If you're coming from Grand Canyon or the Four Corners region, you'll join in Cortez or Dolores or Durango. Because it's a loop, your starting point doesn't really matter. Nor does it matter which direction you travel.
For our purposes, however, I'm going to assume you have three days and will drive clockwise starting from Ouray or Ridgway. (John Wayne's version of True Grit was filmed near Ridgway. Why, I'll never know.)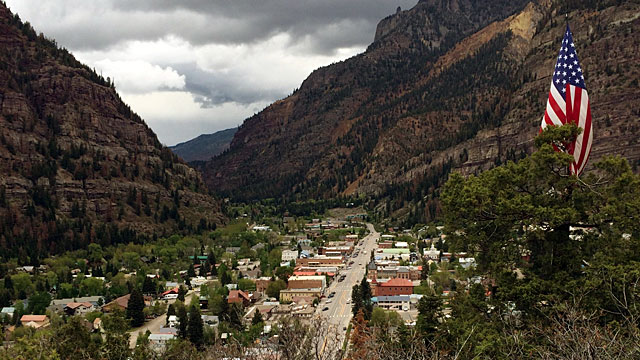 Ouray, Colorado is tucked into the Rocky Mountains
Ouray, Colorado is a tiny town of 1000 people surrounded on all sides by the Rocky Mountains. Along with several other cities (e.g. Leavenworth, Johnson City, Joseph) Ouray has proclaimed itself the "Switzerland of America". That's more than a bit of a stretch, but the town is still charming. And at 7800 feet of elevation, it does possess a bit of that Alpine glow…
Note: Ouray is apparently pronounced "you-RAY", with a stress on the second syllable — sort of like "hooray".
The public hot springs in the center of Ouray are family-friendly ($12 adults, $8 children) and offer spectacular views of the nearby mountains. But they're little more than an outdoor public swimming pool. That's perfect for some, but Kim and I were looking for a different experience. Fortunately, there are plenty of other hot springs in the area.
Orvis Hot Springs, for instance, has a family-friendly indoor pool, but also offers a series of outdoor "clothing-optional" areas, including a pool for smokers. Kim and I enjoyed a quiet afternoon at Orvis (we opted for clothing), during which I splurged for a massage.
For a real change of pace, check out Wiesbaden Spa and Hotel. Wiesbaden (which charges $15 for a few hours of access to their facilities) takes an opposite stance to smoking from Orvis, expressly forbidding anyone from entering if they've smoked in the past several weeks. (Yes, that seems rather extreme.)
Wiesbaden sports a small outdoor 102-degree pool filled from natural hot springs, but also offers a "vapor cave" beneath the hotel. This 108-degree sauna-like cavern isn't for young children or the faint of heart. Visitors who brave the dark space (dimly lit by a single bulb) can soak in a shallow 18-inch pool filled with hot water or stretch out on a stone bench and sweat in silence.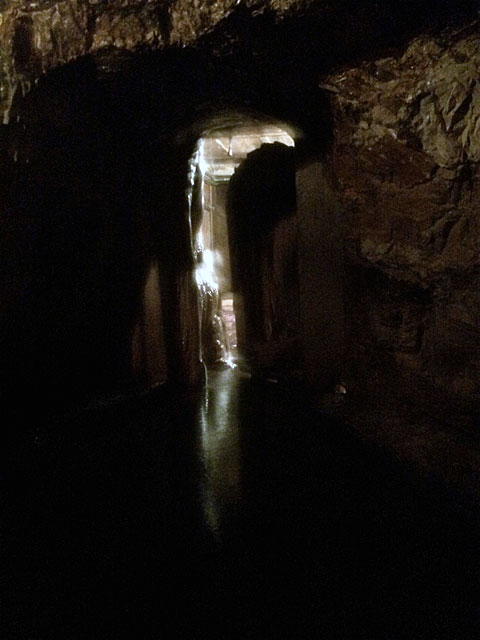 The Wiesbaden vapor caves in Ouray, Colorado
After you stay the night in one of the many nearby hotels, steel yourself for the steep 24-mile drive over Red Mountain Pass to Silverton. Relax. Take your time. Don't let the twists and turns (and lack of guardrails) freak you out.
This slow drive — nicknamed the Million-Dollar Highway — winds through numerous switchbacks on a narrow ride that cuts through old mining country. Signs warn travelers in no uncertain terms: "Alternate routes advised." But you can do it! Go slow and enjoy the spectacular scenery. Stop now and then to take photos.
After about 45 minutes, you'll drop into Silverton, which has one paved road and several muddy sidestreets. There are lots of tourist-trap junk shops, but also several art galleries. The Indian art here is amazing — and reasonably priced — so take some time to explore Greene Street. Hungry? Stop for lunch at Thee Pitts Again, where the barbecue is cheap and delicious. The owner has won more than 300 awards for his BBQ, and the restaurant was featured on Guy Fieri's Diners, Drive-Ins, and Dives.
After a couple of hours in Silverton, it's time for your second mountain pass of the day. Head over Molas Pass and down into Durango. Spend the night here and explore the town. Don't miss the fascinating (and free) railway museum.
Note:
If you have the time, spend a second night here. During your extra day in town, spring for a ride on the
Durango & Silverton Narrow Gauge Railway
. The seven-hour roundtrip is like a journey back in time.
When you've had your fill of Durango, hop the hill to Cortez and Dolores. Spend a day exploring Mesa Verde National Park, which is also a World Heritage Site. Here you'll wander among thousand-year-old cliff dwellings while admiring sweeping views of the nearby valleys.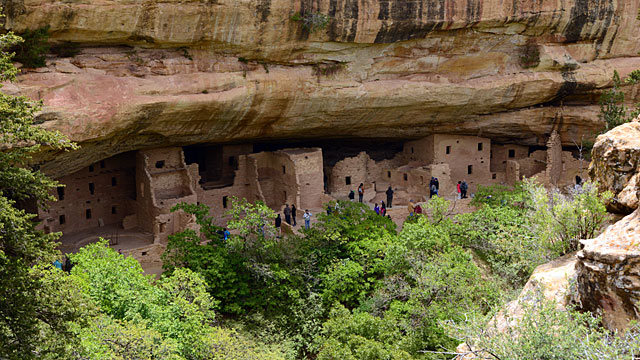 The cliff dwellings at Mesa Verde National Park
Later, visit the Anasazi Heritage Center. If you haven't yet picked up any Indian art, check out Notah Dineh Trading Company in Cortez, where you can buy new stuff or — if your budget allows — antique artifacts. When you're finished, enjoy a delicious dinner at Pepperhead.
In the morning, it's time for the last leg of your road trip. Drive northeast out of Dolores toward Telluride. Admire the aspens. Pause briefly in Rico to photograph the stout old buildings. Climb Lizard Head Pass and descend toward Placerville (stop in Telluride, if you'd like). At the Dallas Divide, drop into Ridgway. Celebrate the end of your adventure at the Skyway Bar and Grill.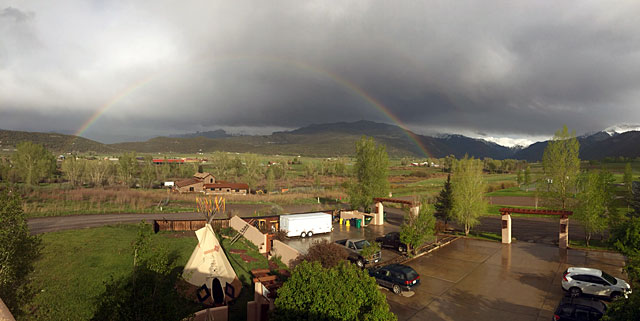 A rainbow over Ridgway
If you have more time, there are lots of ways to extend the trip. Spend more time in each location. Tack on a few days in Ouray or Durango. Or visit one of the many other nearby points of interest, such as:
Black Canyon of the Gunnison National Park (about 50 miles north of Ridgway)
Canyons of the Ancients National Monument
Hovenweep National Monument
The world-renowned small ski town of Telluride
Moab and its two national parks: Arches and Canyonlands (about 100 miles northwest of Placerville
Canyon de Chelly National Monument (pronounced "duh SHAY") (about 80 miles southwest of Cortez)
Animas Forks ghost town, not far from Silverton

Black Canyon of the Gunnison National Park
Whether you spend one day or ten on the San Juan Skyway, you're sure to enjoy the experience. There's just so much to see: art, history, nature, culture, and more. And be sure to bring your camera. There's more to photograph in southwest Colorado than you can possibly imagine.