Last Wednesday, we woke early. We'd stayed up late (for us) laughing with Kim's high school friends, and now faced a long day of travel. We said our good-byes, then left northwest Nebraska for the three hour drive back to Buffalo Gap National Grassland, where we'd left the RV parked alone on the edge of a cliff for 24 hours. We reached the RV by noon, and were on the road within half an hour.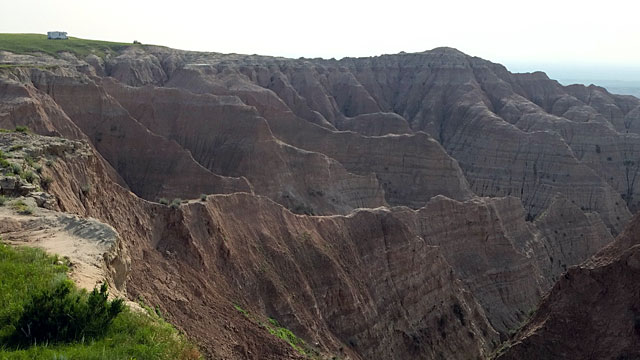 Our camping spot outside Badlands National Park.
"We're making good time," I said as I pulled onto I-90. "We should reach DeSmet by six o'clock." We were eager to visit the real-life home of Laura Ingalls Wilder's "little town on the prairie". Kim went into the back of the motorhome to sleep while I settled into the long, monotonous cruise over the never-ending grassland.
Typically, I try not to drive faster than sixty miles per hour when our motorhome is towing the Mini Cooper. Part of this caution is due to generalized safety concerns, but another part is a desire to reduce stress on the RV's drivetrain. I figure fifty-five or sixty is fast enough and gives me margin for error.
On I-90, however, I decided to take a risk. Traffic was light and the road unchallenging, so I bumped my speed to nearly seventy. Everything seemed fine. I drove this way for an hour. Then two. As I drove, I listened to one of my favorite audiobooks (True Grit, read by Donna Tartt, who loves the book as much as I do).
The Unwelcome Sounds
Two hours into the drive, I began to hear a strange beeping on my audiobook. Only the sound was not from my audiobook. The beeping accompanied a warning light on the dashboard: Check Gauges. I checked the gauges, but they all seemed normal. What could be the matter? Just as I approached the Kennebec exit, the problem became apparent: the oil-pressure gauge dropped from normal to nothing. Yikes! I pulled off the freeway and parked in an empty lot.
I'd last changed the oil myself in Palm Springs, California at the end of April. After four thousand miles, it was nearly time to change the oil again. I had planned to do so at the end of the week while we were camped on a lake in Minnesota. Maybe I had waited too long?
I crawled under the chassis to check for a leak. There wasn't any. I popped the hood. The engine was warmer than I had expected, but I chalked that up to the heat and humidity of South Dakota. I pulled the dipstick. The oil level seemed a little low, but not bad. I added a quart just in case.
"Did that do the trick?" Kim asked as I started the engine.
"Sure looks like it," I said. "Oil pressure is back to normal." We returned to the freeway. Because nothing seemed out of the ordinary, I resumed my daring speed of seventy.
We left the freeway at exit 310 and turned north for the final leg to DeSmet. As the RV began to pick up speed, however, the warning lights (and beeps) returned. Worse, now there was a new noise — and not a good one. A sort of banging or clanking made our hair stand on end. "That does not sound good," Kim said. I immediately pulled the motorhome to the side of the highway.
As eighteen-wheelers and pickup trucks whizzed by at high speed, Kim and I crawled around under the chassis and rooted under the hood. "That engine is hot," Kim said. "Is it always this hot?"
"Nope," I said. Sure, the engine is warm after a day of driving, but I never feel like I'm going to burn myself when I open the hood.
"What should we do?" Kim asked.
"I'm afraid to drive it farther," I said, "but I think we should pull off the highway. Traffic here is too heavy and moving too fast." Fortunately, we were next to one of South Dakota's many dirt roads. (There seems to be a grid of these roads spaced every mile running both east to west and north to south. I'd be willing to wager there's an organized network of these across the entire state.) I turned on the engine long enough to back the motorhome off the highway and onto the untraveled side road.
We jumped in the Mini and drove five miles to the town of Plankinton (population 707). "Man, I sure hope we can find a garage that's open," Kim said. "This is a small town and it's almost five o'clock." We were lucky. We found Overweg Auto, which was just about to close. Keith — who looked like he'd had as long a day as we had — offered to follow us back to the motorhome.
Once we reached the side road (250th street), Keith spent a few minutes diagnosing the problem. He started the engine and waited for the oil pressure to fall. It fell. The clanking noise returned. He got out and looked under the chassis. He poked around under the hood.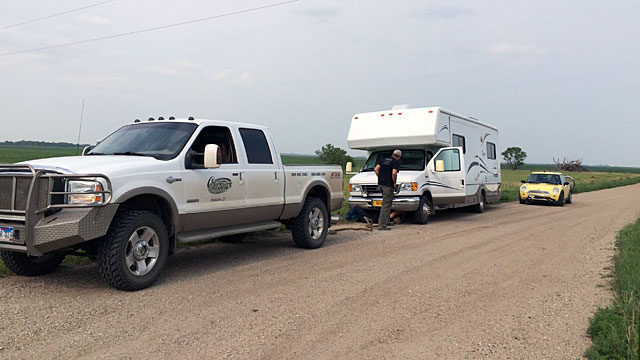 Prepping to tow an injured RV back to town…
"I can't be sure," he said, "but it seems like you've spun a bearing. Let me tow you back to town. You can spend the night in the RV park there. We can decide what to do in the morning." He connected the motorhome to his pickup and towed it to Hill's RV Park.
The Bad News
In the morning, I walked two blocks to Keith's garage. He looked even more tired than he had the evening before. "I got an emergency call around midnight," he said, "and then another guy had trouble early this morning. I haven't had much sleep." The poor guy looked ragged.
"On the plus side, that gave me time to think about your rig. I did some research on it. I'm positive it's a spun bearing, but there's no way to know for sure without pulling everything out and taking it apart. If it's a spun bearing, your engine is probably toast."
"What are our options?" I asked.
"None of them are good," he said. "Best case, we pull it out and there's minimal damage to the engine. If that's true, then it'll cost you about $4000 in labor and $1000 in parts. Realistically, though, the engine will be damaged. You're probably looking at several thousand in parts. I saw one guy online who paid nearly $12,000 to get his engine rebuilt after this happened to him."
"Yikes," I said.
"Another option is to just replace the engine. There's an engine in Denver and I can have it here early next week. That'd only be about $2000 in labor, but the engine would be $5500. That's a lot of money, maybe more than you'd pay if we just repaired it. But the plus side is that you'd get a new engine with a three-year unlimited-mile warranty. That might be good for the trip you guys are doing."
"Are there other options?" I asked.
"Sure," he said. "We can replace the engine with a used one or a remanufactured one. Labor would be about $2000 for those jobs too, and the engine would cost less. If you don't mind not having the warranty, that's probably your best bet."
Kim and I had talked over the possibilities after doing a bit of internet research. In general, I'm not a fan of warranties. But in this case, the idea of having a new engine with a warranty appealed to me. "Would the warranty be transferable if we were to sell the motorhome?" I asked Keith. "We intend to sell the RV when we get back to Portland next year."
"Yes," he said, and that was the magic answer. $7500 is a lot of money to spend on a vehicle repair, but with a transferable warranty, we feel like we can recoup some of that cost when we sell. Plus, it'll give us peace of mind during the rest of the trip. We know that even if something does go wrong again, we won't have any out-of-pocket expenses.
"Let's do it," I said. "Order the new engine. We'll stay at the RV park until it comes in, then move the motorhome over here so you can work on it. I think the RV park has some cabins we can use while you guys get the work done."
Keith and I shook on the deal, and I went back to camp.
The Long Wait
Kim and I have been camped in Plankinton for a week now. If the RV had to break down, this was probably the best place it could have done so. For one, it's inexpensive to stay here. Small-town South Dakota is cheaper than just about anywhere in the U.S. For another, there's no stress. If the engine had died in L.A. traffic or in the middle of Chicago, I would have been very very tense. Instead, I'm relaxed. We haven't been concerned that anyone is trying to rip us off or that we'll be overwhelmed by a mass of people.
In fact, it's been rather pleasant to pass the week walking into town for lunch or for groceries. We took the opportunity to clean the RV, which meant scrubbing baked-on bug guts on a 100-degree day.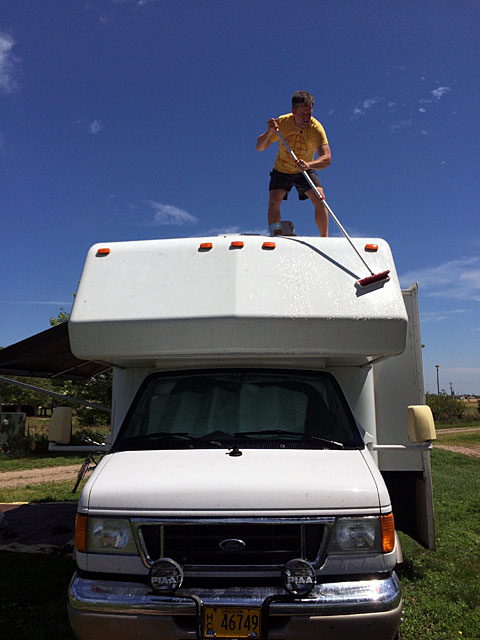 The break gave us a chance to scrub baked-on bug guts off of the RV.
Because we were stuck in place, I got to see my friend (and colleague) Miranda, who was making her own cross-country drive from Philadelphia to Idaho Falls. She paused during her trip to have lunch with us at our favorite place in Plankinton: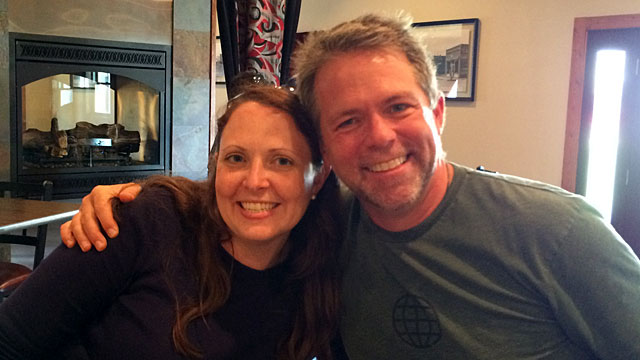 Who would have thought I'd cross paths with a a friend in rural South Dakota?
We've also met some of the locals, and they now wave to us as we walk around town. In the evenings, we sit outside with the owners of the RV park and their friends and drink beer and talk about life. Or we sit outside and drink beer with other Trailerites. It's all very low-key and mellow.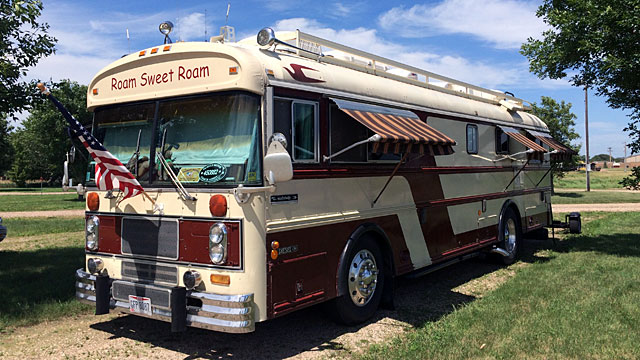 We drank beer with one guy who had this magnificent 1980 Blue Bird Wanderlodge.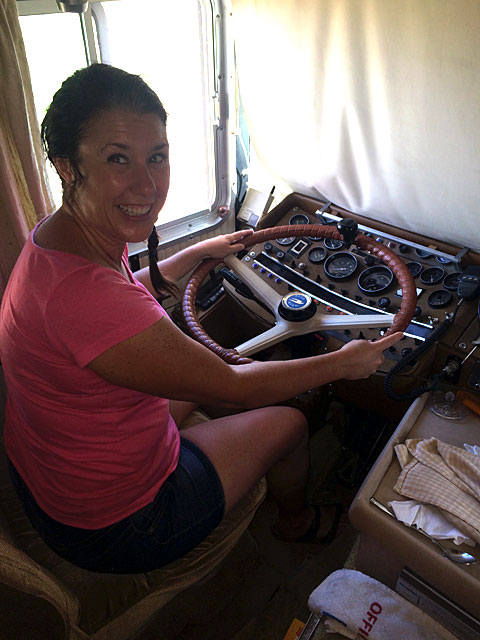 The owner (Brett) showed us the inside. Kim liked sitting behind the wheel.
We've also made time to visit the Laura Ingalls Wilder stuff in DeSmet, and we've driven to nearby Mitchell (and its corn palace) a couple of times.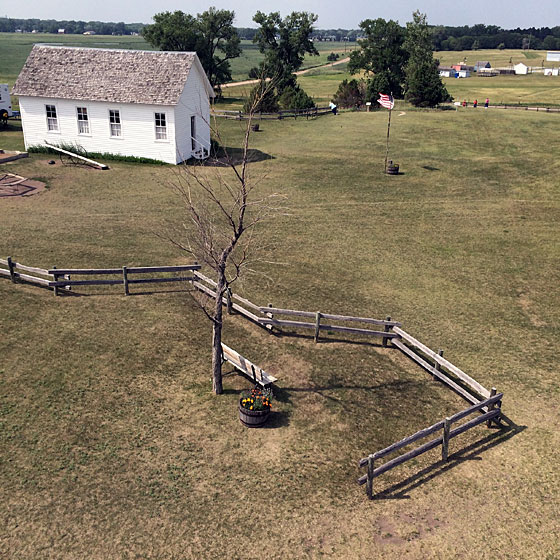 The real-life Ingalls homestead. Laura first met Almonzo in the slough behind this white building.
If Kim hadn't gotten sick yesterday, we'd be out exploring more of the surrounding area. While I was getting my haircut this morning (only $10.60!), my stylist told us we ought to drive west to the Missouri River, where we could have fun by renting a pontoon boat. Maybe tomorrow?
Still, a week is a l-o-n-g time to spend anywhere — especially rural South Dakota. We're ready to move on.
Fortunately, the new engine arrived this morning and Keith and his crew have already begun putting it in place. There's a chance we'll be on the road tomorrow (Thursday), but Friday is probably more realistic. We're eager to get moving again. It's been pleasant to park in South Dakota for a week, but we're ready to see Minnesota and Wisconsin and Indiana and Ohio and, and, and…
Kind of disconcerting to see your home completely disemboweled…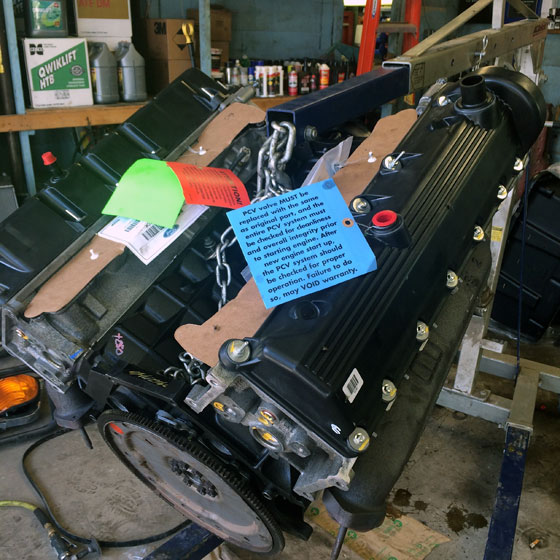 A shiny new engine, just waiting to be installed…