One of the best parts of this year-long road trip is reconnecting with friends we haven't seen for years. Or decades.
Kim, for instance, has been looking forward to reuniting with her friend
Shelley. Shelley and Kim met during junior high. During high school, Shelley and her family were like a second home to Kim. In their late teens and early twenties, they added another friend (Carol) to the mix, as well as Kim's new husband. The four of them were almost inseparable. When Shelley and Carol decided to move to Minnesota, they asked Kim and Rob to join. Kim and Rob moved first; the other two girls followed a little later.
But, as often occurs, people moved and families happened. Shelley got married and had kids. Kim and Rob got a divorce. Carol moved to Nebraska. Through the twists and turns of fate, Shelley and Kim and Carol hadn't seen each other in nearly fifteen years. Last winter, when Kim and I started planning the places we wanted to go, one of the first places she marked was Shelley's home in Minnesota.
In March, Kim emailed Shelley to ask if we could visit. She never heard back, so she tried to reach Shelley by Facebook. No reply. "That's strange," Kim said. "I hope I have the right contact info."
While staying with Kim's mom in Fort Collins, Colorado, Colorado, she realized that Shelley was no longer in Minnesota. "It looks like she's just a few hours away, near Alliance, Nebraska," she told me. "Maybe we can visit her when we leave Fort Collins." She tried to contact Shelley again. Again, she received no response.
"This doesn't make sense," Kim said. "I wonder if I did something to make her mad." Instead of veering into Nebraska, we headed north into Wyoming, then to Montana and the Dakotas.
When we reached the Black Hills of South Dakota — closer to Alliance, Nebraska even than Fort Collins was! — Kim tried to contact Shelley again. And Shelley tried to contact her. "You're so close!" Shelley commented on Facebook. "Come visit!" But when Kim tried to reach Shelley, there was no response. We left the Black Hills and moved on to the Badlands.
It was then that everything came together. Carol, who had also been keeping touch on Facebook, contacted Kim. "Shelley and I are sad that we didn't connect while you were in the Black Hills," she said. "We'd love to see you." Apparently Shelley hadn't received any of Kim's emails. (This is another example of one of our life rules: "Assume the best, and you're probably right.")
"What do you think?" Kim asked. "Can we take time to see them?" We were moving away from Nebraska, not closer. "Carol and Shelley are willing to drive to meet us for lunch in Rapid City. But you know, I'd rather drive down to Nebraska. Shelley's brother Scott is there now, and so are her parents. I'd love to see the whole gang."
"Let's do it," I said. "It shouldn't affect our schedule too much."
I know how important it is to keep connections with old friends. We were planning to meet some friends of mine in Minnesota in just a few days. Plus, I was struggling to reconnect with a friend from college. I'd like to see Dana in Minneapolis, but she hasn't replied to my messages.
Kim called Carol and Carol called Shelley and Shelley called Kim. Together, the three of them formulated a plan. On Tuesday morning, we left the RV alone on the edge of a cliff overlooking Badlands National Park.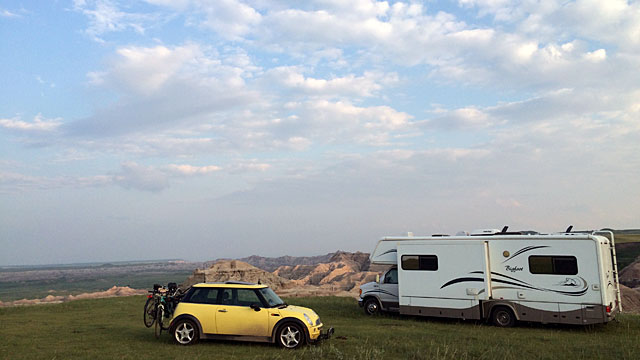 Sitting on the edge of the Badlands…
We hopped in the Mini Cooper and drove the 200+ miles from Wall, South Dakota to Hemingford, Nebraska. We reached Shelley's house at about one in the afternoon. Kim and Shelley shed tears of joy (for real!) as they hugged each other for the first time in more than a decade.
"It's so good to see you!" Shelley said.
"I know," Kim said. "I feel the same way."
Carol arrived soon after, and the three women fell easily into old, familiar patterns.
For the next twelve hours, Kim and Shelley and Carol (and other members of the family, all of whom now live in the area) laughed and joked and reminisced. They recalled old stories and dug out photos from high school and beyond. When Shelley's parents came over, the girls revealed some of the stuff they used to get away with when they were younger. When Shelley's husband, Anthony, came home from work, he prepared deep-fried tacos. (Anthony also showed us his life-long collection of arrowheads and other Indian tools.)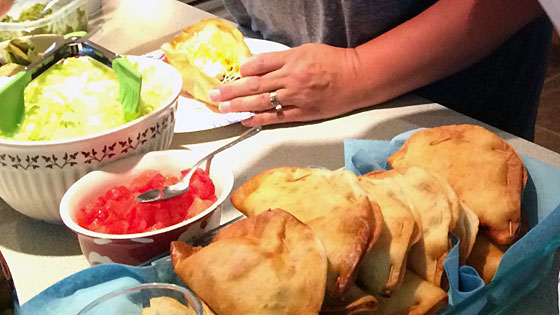 Deep-fried tacos are surprisingly good!
We stayed up late talking and laughing. I didn't have much to add to the conversation, but enjoyed watching Kim and her friends behaving so joyfully. Exhausted, we finally crashed in a back bedroom at Carol's house. Our sleep was fitful from too much adrenaline and alcohol. No matter. Kim was happy. She'd got to see a couple of her oldest friends — and get their correct contact information.
"It's amazing," Kim said during the long drive back to Wall the next morning. "I haven't seen Carol and Shelley in more than ten years, yet we were able to pick up again as if we'd seen each other only yesterday. Those two are true friends."
Now, if only I could figure out how to reach Dana, I could have a similar reunion of my own in Minneapolis…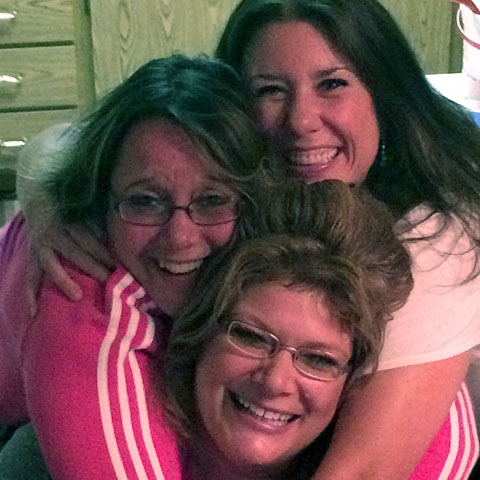 Carol, Kim, and Shelley — three friends, together again…