At long last, we're on the road. Yesterday morning — on my 46th birthday — we left our home in southeast Portland and drove south and west to the Oregon Coast.
Kim and I are both glad to finally be underway. The last week was stressful for both of us as we rushed to prep the RV for the trip and the condo for our housesitters. To make matters worse, Kim was both sick and sleep-deprived, which made everything more difficult than it ought to have been.
Now, though, all of that worry and woe is evaporating. We're on the road, and any loose ends will have to remain untied.
A Weight on Our Minds
One nagging issue that we can't ignore is the matter of weight. As I mentioned a couple of weeks ago, our RV is rated for 14,050 pounds total weight (including fuel, water, and passengers). A quick stop at a weigh station showed that we were 400 pounds over that, so I made a trip to a certified scale to get an official weight. We were 700 pounds over.
"That's only five percent," you might be saying. "What's the big deal?"
Well, maybe it isn't a big deal — but maybe it is. All the same, I'd feel a lot better about our safety (and the safety of the folks around us) if we could get our weight down to the recommended limit. So, we've spent much of the past few days draining the fresh water tank, moving from glass jars to plastic containers, and removing things we know we don't need.
Yesterday morning, on our way out of town, we revisited the certified scales. The results? We freed up nearly 200 pounds. That means we're still 520 pounds overweight, though. We intend to keep lightening the load over the next couple of weeks.
Uncle Stan
Midway through our drive to the Oregon coast, we stopped in Brownsville to return a borrowed item to a cousin. While we were there, we got a chance to chat with my Uncle Stan.
Stan is a friendly, down-to-earth Mennonite boy who was born and raised in Oregon logging country. He married my father's sister Virginia in the 1950s, and together they produced nine children (who, in turn, have produced 53 grand-children). Virginia died nearly three years ago. Since then, Stan has lived with his youngest son.
Virginia was a landscape photographer, and a good one. Her images have appeared in magazines and calendars and graced all sorts of jigsaw puzzles. Many Oregonians are familiar with her work, although they might not know it: Her images dominate those for sale at the Multnomah Falls gift shop.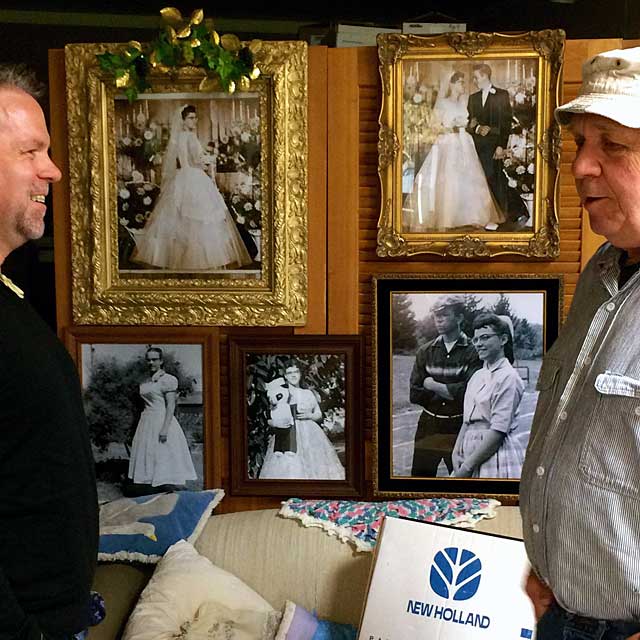 J.D. and Stan chat about family history
Stan carries on Virginia's legacy. In a remodeled pole barn, he has a studio of her best images, which he proudly showed us while recounting stories of their travels across the United States. He now spends much of his time fulfilling orders for prints and cards, mailing them or delivering them by hand to locations in Oregon, Pennsylvania, and beyond.
We hadn't intended to spend so much time chatting with my uncle Stan, but it was a wonderful way to start the trip. It sort of set the mood for the year to come.
Making Good Time
After our visit with Stan, we left the freeway behind. One of my goals is to use busy interstates only when necessary.
In Zen and the Art of Motorcycle Maintenance, Robert Pirsig talks about the ideal motorcycle ride across the country. He advocates back roads and small highways. The freeways, he says, are for people in a hurry. Besides, from the freeway, everything looks the same. When you take backroads (or "blue highways", as some people call them), you learn more about the local people and what's important to them. Here's how he describes it:
Plans are deliberately indefinite, more to travel than to arrive anywhere. We are just vacationing. Secondary roads are preferred. Paved county roads are the best, state highways are next. Freeways are the worst. We want to make good time, but for us now this is measured with emphasis on "good" rather than "time" and when you make that shift in emphasis the whole approach changes.

…

Roads with little traffic are more enjoyable, as well as safer. Roads free of drive-ins and billboards are better, roads where groves and meadows and orchards and lawns come almost to the shoulder, where kids wave to you when you ride by, where people look from their porches to see who it is, where when you stop to ask directions or information the answer tends to be longer than you want rather than short…
From Brownsville — the town where Stand By Me was filmed — we hopped across I-5 to catch highway 99E, which took us to 36, and then to 126. We wound down Poodle Creek Road, and drove under the eerie moss-covered trees outside Mapleton.
"I'm trying to soak this in," I told Kim. "Trying to feel the Oregon-ness of it all. It's the last time I'll see it for a year."
We spent our first night in Florence, on the central Oregon coast. This morning, we took a short bike ride to look at the sand dunes, which are popular with motorcycle and ATV riders. They're also home to the beautiful but controversial European Beach Grass, which provides color and texture while stabilizing the dunes, but it's an invasive species that's destroying the ecosystem.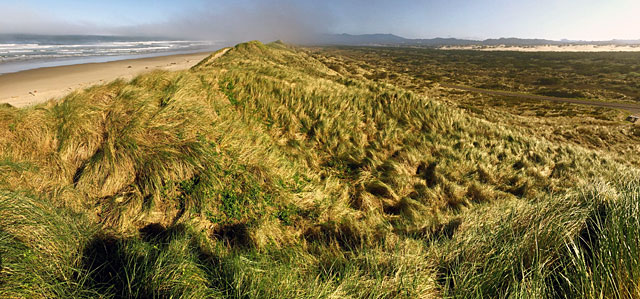 Fog rolling over the sand dunes and wind-swept grasses in Florence
As we drove south along the Oregon coast, we made a pit stop at Prehistoric Gardens, just outside Port Orford. This small road-side attraction is expensive ($12 per adult!) but might be worth it if you have kids in the family — even if your kid just turned 46 years old. Amid "prehistoric" plants, the owners have built life-sized replicas of maybe a dozen dinosaurs. Kind of fun to see, but it would be more so if the price were, say, $3 per adult.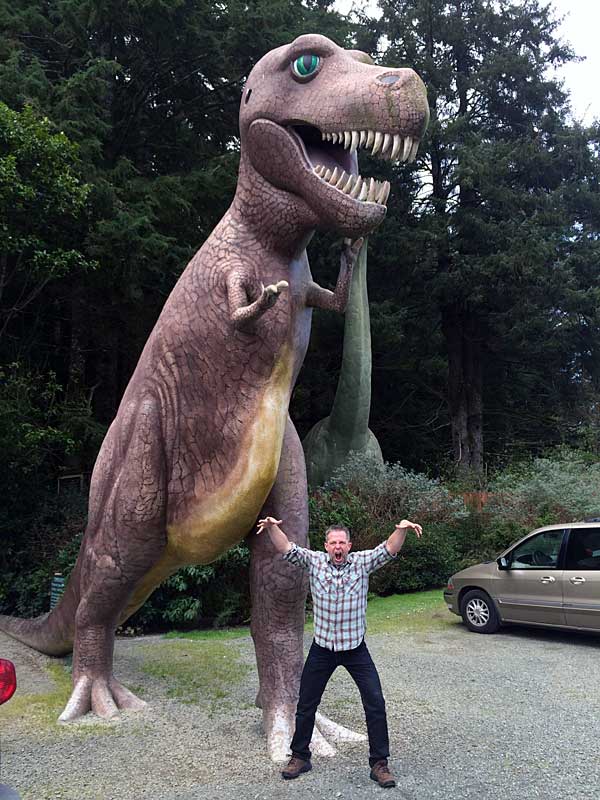 J.D. ain't afraid o' no T-Rex
After a failed attempt to find a camping spot at Jedediah Smith Redwoods State Park just inside the California border, we set up camp in Crescent City. Tomorrow, we'll take a short trip down 101 to Redwoods National Park. And in a few days, we'll move to the Russian River Valley, where we'll hang out for maybe a week.
We're already having fun. It feels good to be on the road instead of preparing to be on the road. So much to see and do!
Note: Since the first of the year, we've been posting every Thursday. Now that we're on the road, updates will be spaced irregularly. Based on our experiences (and our internet connection), we might post a few times a week — or not at all for ten days. Also, some updates will be shorter — maybe just a photo or two.