Here's a recipe for an amazing day.
Wake early. Pack camp. Leave Crescent City by 8:45. Drive south on 101. Admire the scenery. Stop at Redwood National Park. Stop at random places along the highway to take photos of the fog.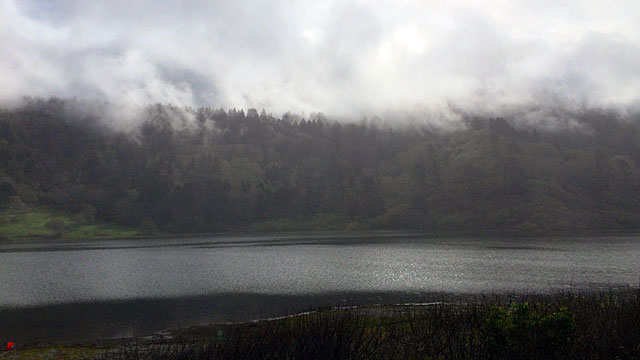 Our morning drive was shrouded in shadows and fog
Drive through Arcata and Eureka. Just north of Fortuna, take exit 691 (Fernbridge, Ferndale). At the Humboldt Creamery, go over the Fernbridge (built 1911). Cross the Eel River. And the Old River (twice). And the Salt River. After five miles of farmland, you'll reach "the Victorian village of Ferndale" (elevation 50 feet, population 1371).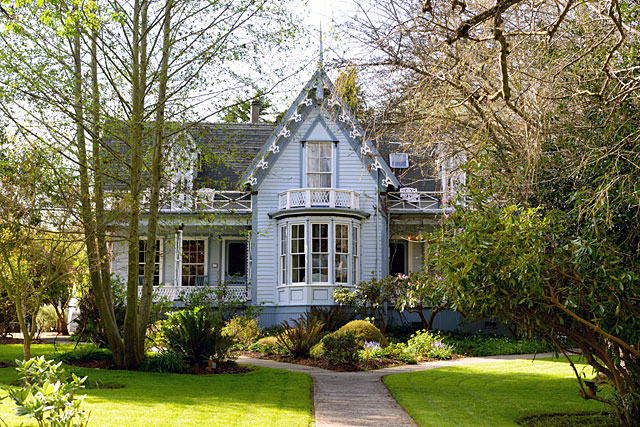 Ferndale was founded by the fellow who built this house
Park in front of the Shaw House. Walk across the street to buy pecan rolls and cinnamon bombs from Humboldt Sweets (as featured on Guy Fieri's "Diners Drive-Ins and Dives").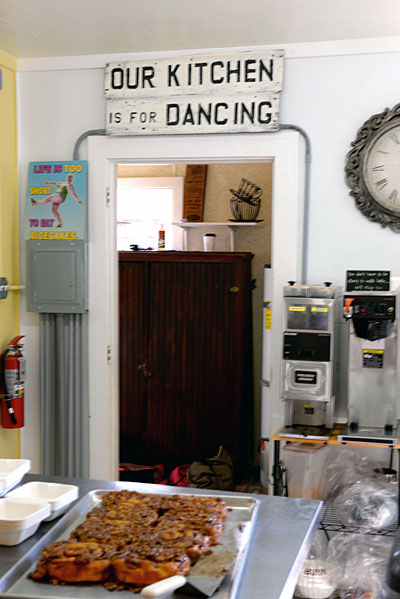 You do NOT want to know how good the pecan rolls are…
Stroll up Main Street. Admire the old-fashioned Ring's Rexall Drugs. Ooh and aah over how Valley Grocery reminds you of the supermarkets you knew when you were growing up in the 1970s. Have fun looking at candy and hats in the Golden Gait Mercantile.
Stop for a l-o-n-g time in The Blacksmith Shop. Admire the rustic hand-made chef's knives. And the bracelets. And everything else, for that matter.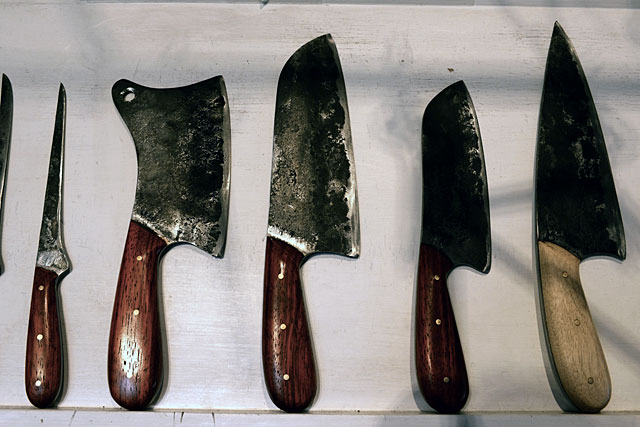 Look at these amazing knives from Michael Hemmer…
Chat with the clerk about Ferndale. She came up here two years ago from Fort Lauderale to care for her aging mother, who recently died. But the clerk loved Ferndale and stayed here. "It's from another era," she says, and you agree. She tells you to eat at The Hotel Ivanhoe. She also tells you to turn right at Ocean Avenue and drive five miles to Centerville Beach.
You do.
The road is winding and rough. On your way out of town, you pass old Victorian homes, fallen-down barns, and shaggy cattle (yaks?). You slow down at the pristine beach — no, really, it's pristine — but continue another mile to the Lost Beach Coast Headlands. Pick your jaw up off the floor.

The Lost Coast Headlands
Wonder why nobody knows about this place. Take photographs. Watch the deer in the pasture across the road. ("Road" is a generous word, in this case.) Smile at the wildflowers. Tell each other how lucky you are to be right here, right now, in this place.
As you return to Ferndale, slow your car to a crawl as you follow four deer in a pasture. Wave to the shopowners who are closing up shop at five o'clock on a Friday night.
Take exit 687 in Fortuna. Turn right. Stop for dinner at Eel River Brewing. Rave over their double IPA. And their "Hop Trials #1". Order a pulled pork sandwich. And a BBQ tri-tip beef sandwich. And a beer sampler platter.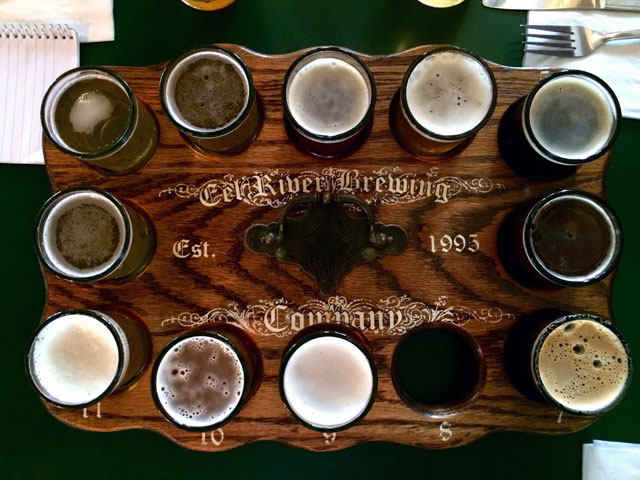 The sampler platter at Eel River Brewing
The clam chowder is delicious. The green salad is delicious. The sandwiches are delicious. And, most of all, the beer is delicious. Savor it all.
Go back to the RV, curl up in bed, and think — really think — about just how lucky you are.