As Kim and I prepare for our year-long road trip, the question we get most often is, "Where are you going?" My tongue-in-cheek reply? "Everywhere!"
Kidding aside, we really do want to see as much of the United States as possible. This is a huge country (something that residents of other nations don't always realize), and there's a lot to see and do. But how can we see it all? Obviously, we can't — but we could certainly try to optimize our route.
Recently, a Michigan State doctoral student used an algorithm to plan a route for the ultimate road trip across the U.S., charting a course to visit each of the 48 mainland states. Here's his mathematical map: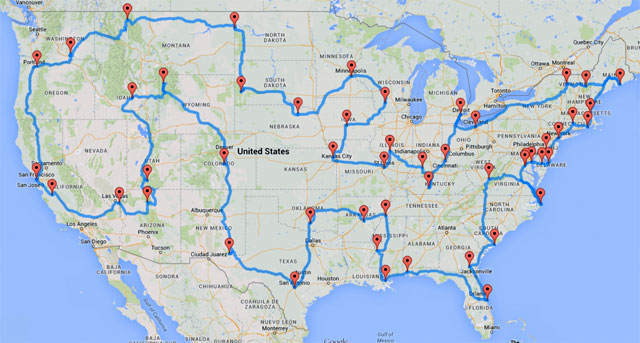 Randal Olson's optimal road trip to U.S. landmarks
Olson's route focuses on major landmarks and National Parks. For folks who prefer cities to nature, he also created a second map (which, as you can see, is similar to the first):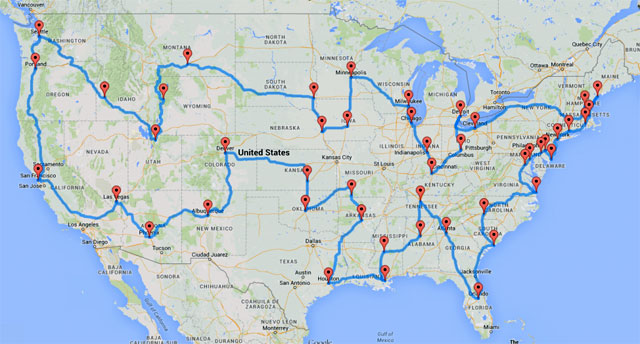 Randal Olson's optimal road trip to U.S. cities
Perhaps unsurprisingly, Kim and I had a lot of people send us Olson's maps by Facebook and email last week. "You should do this!" they told us. Maybe. But maybe not.
Layers of Fun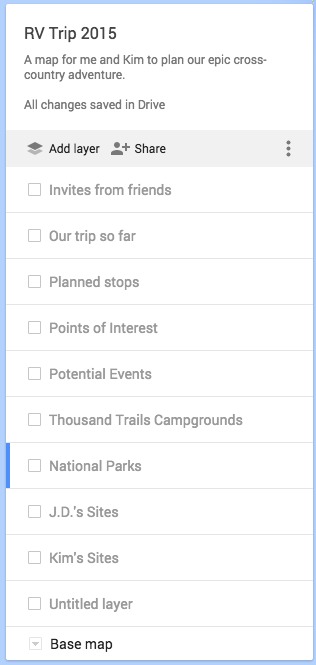 When we started planning our trip, both Kim and I were taking notes by hand. Whenever somebody invited us to visit or we found an interesting site to visit, we'd jot it down in a notebook. The problem? How to convert these notes to a map. I bought a big paper map of the U.S. While fun to look at, this traditional map seemed awkward and inefficient.
"I wonder if I can create a trip plan with Google Maps?" I wondered. The answer is: Of course! In fact, it's very easy and efficient to plot points of interest using Google Maps, and then use this information to plan a route.
To begin, I opened Google Maps, just as I would when looking to find a local business or restaurant. When I clicked in the search box, I selected "My Maps". From there, I created a new map called RV Trip 2015. One by one, I created "layers" for each type of stop we're considering.
I created a layer for National Parks.
I created a layer for friends and family.
I created a layer for RV parks.
I created a layer for planned stops (such as conferences).
I created a layer for personal points of interest (such as the Charles Schulz museum).
Next, I began adding items to each layer. I might select the "National Parks" layer, for instance, and then use the search box to find Redwood National Park. I'd then add location pin to the "National Parks" layer. When appropriate, I'd add notes or change the name of the pin to provide more meaningful information. After several weeks of work, we have a map containing a couple of hundred locations.
There are invites from friends: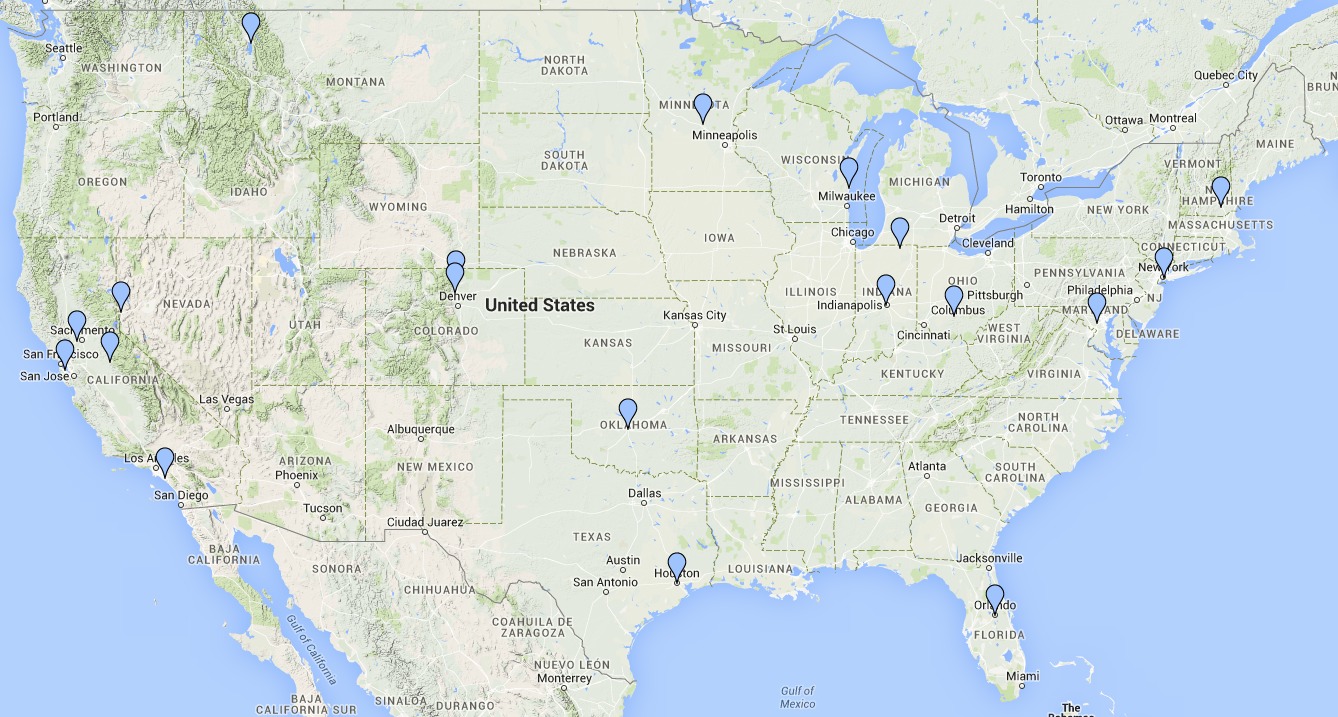 The friends layer in our road-trip map
There are RV parks where we can stay free: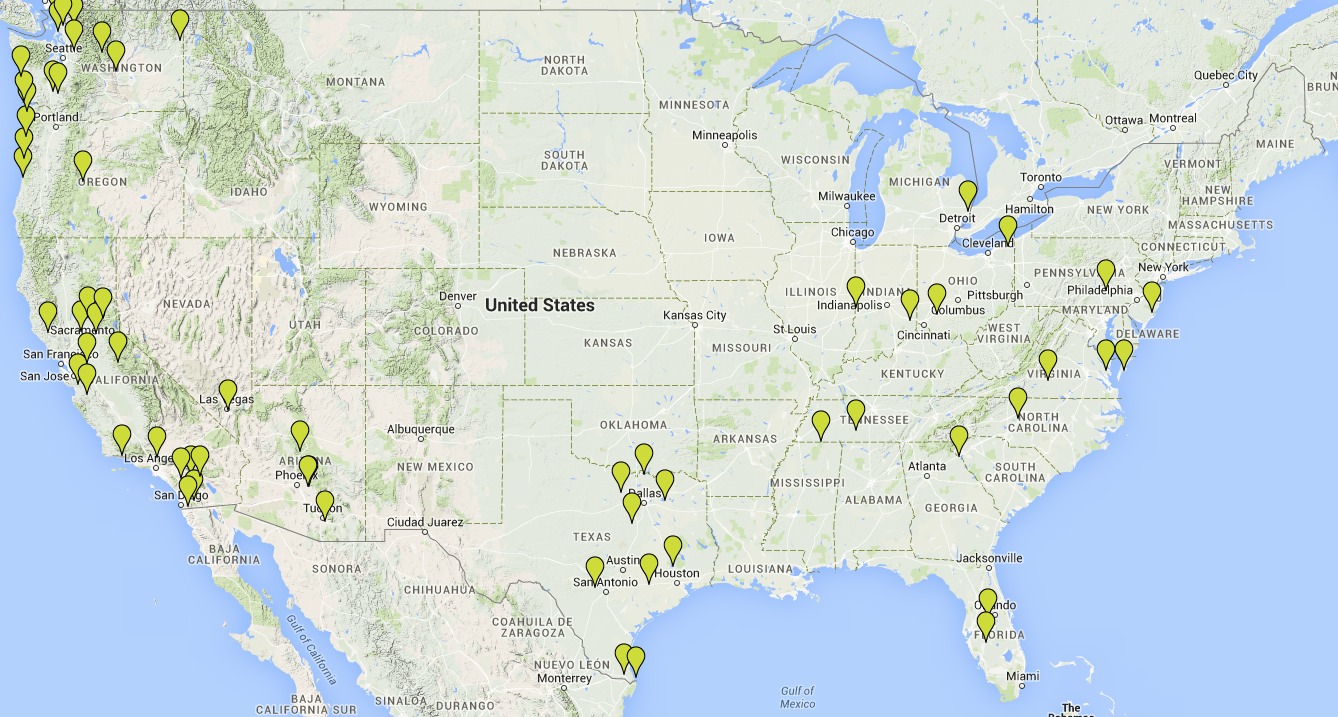 The campgrounds layer in our road-trip map
There are National Parks: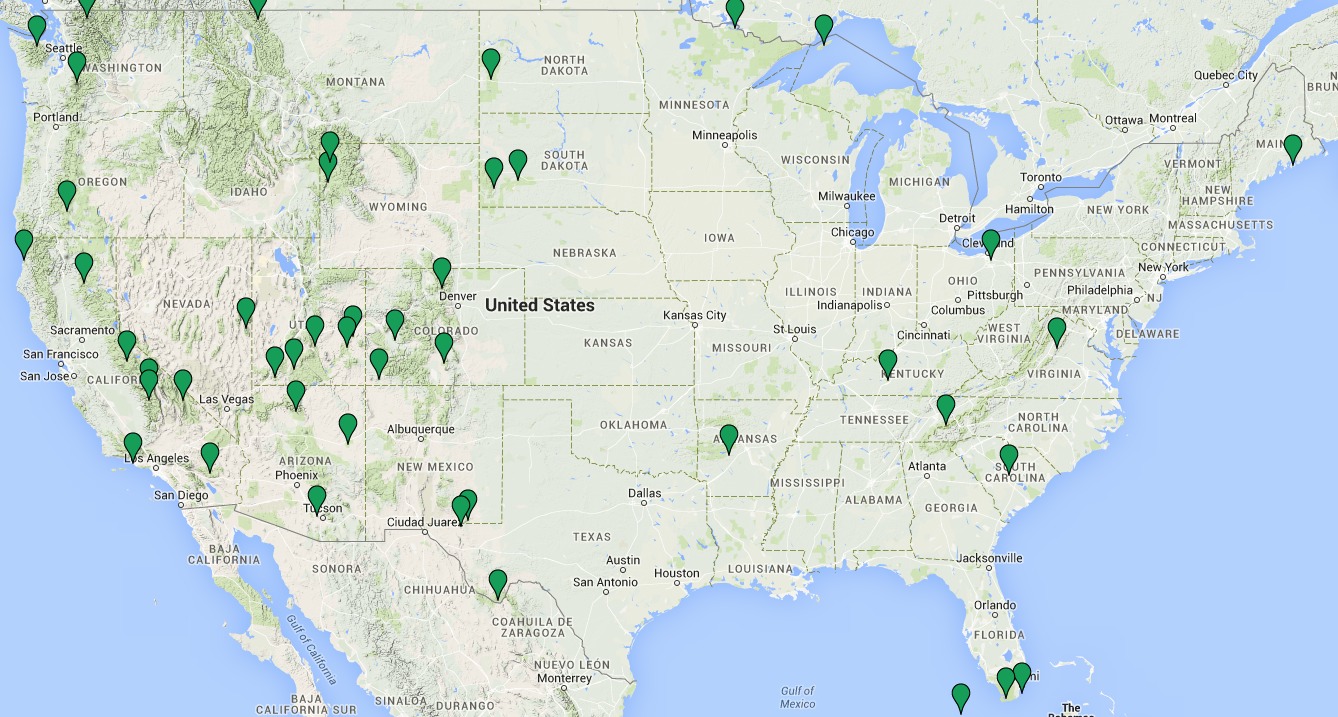 The parks layer in our road-trip map
And there are other points of interest: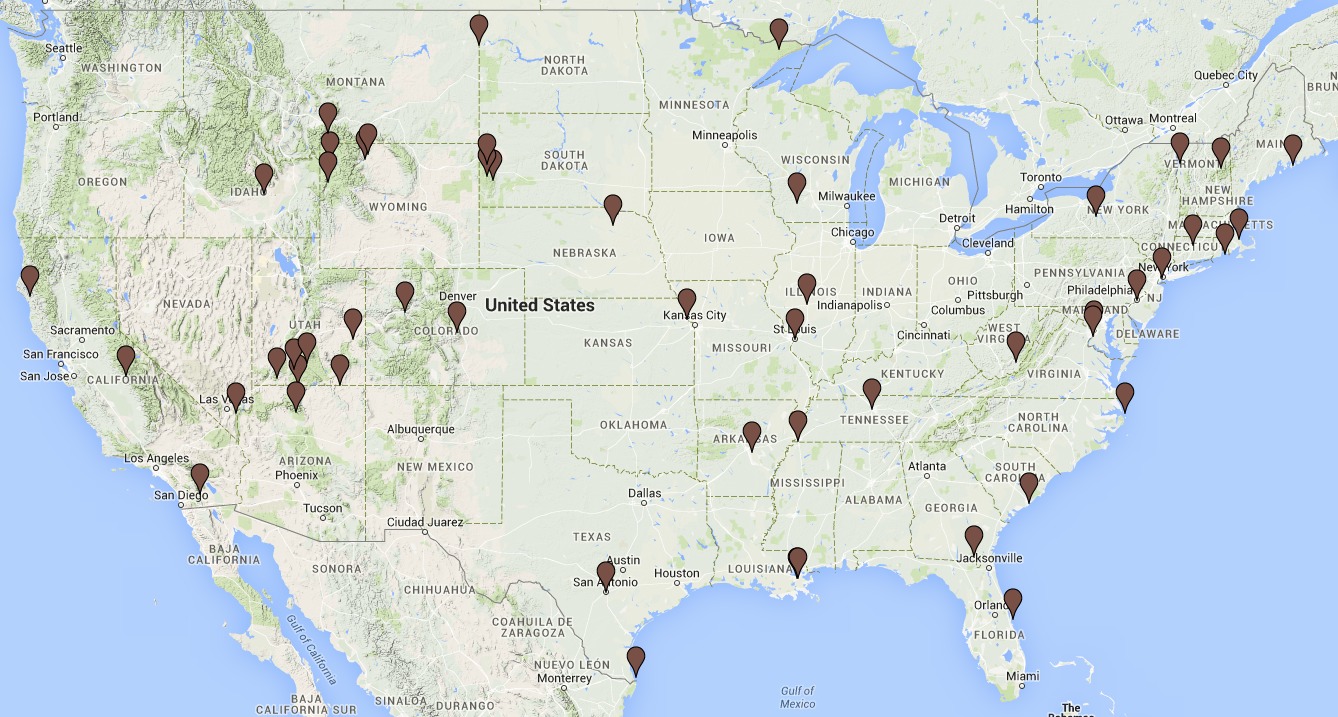 The points-of-interest layer in our road-trip map
When you put these all together by selecting every layer in the map, you get something that looks like this: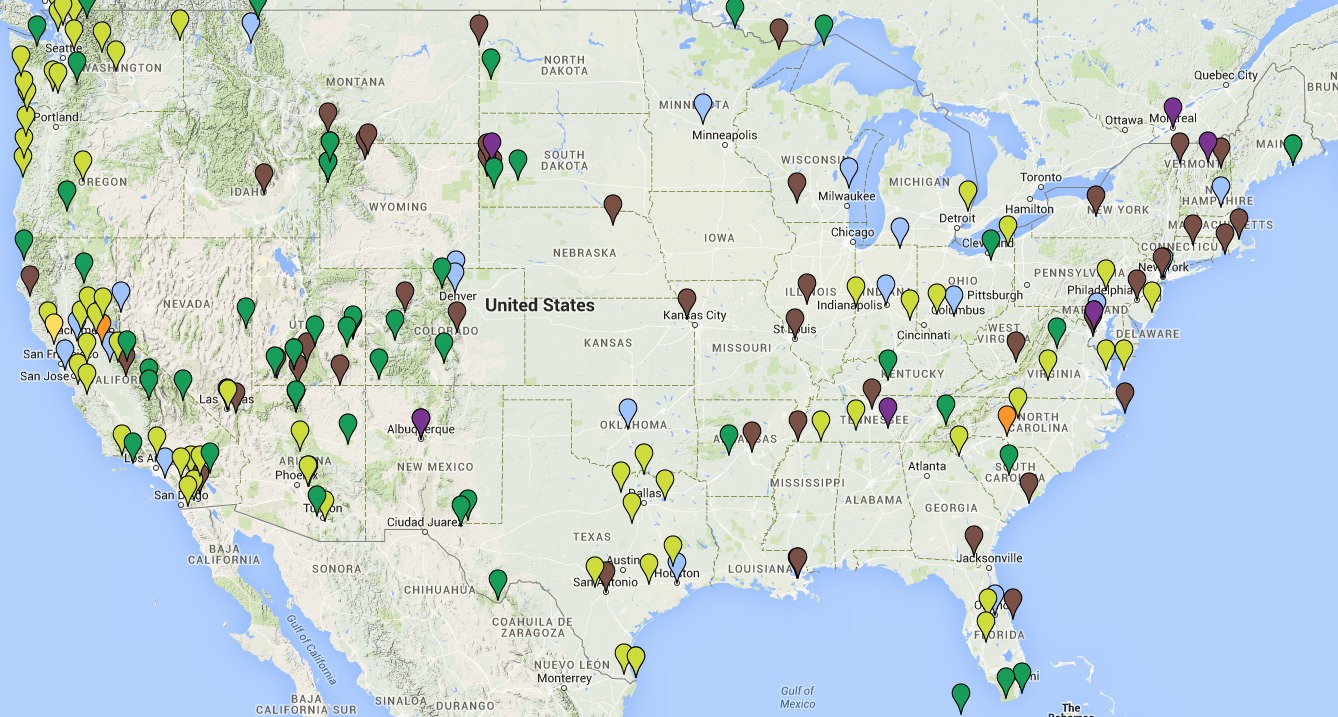 Our master road-trip map
Look at all of those places to visit! And that's just to start. We know we'll receive more invites from friends while we're on the road, and we'll here about other places to explore.
Setting a Course for Adventure
Putting it all together, then, we've come up with a rough idea of our course. Keep in mind, however, that our motto is "go with the flow". We expect our route to change as we meet new people and find new places that we love. We're going to make this up as we go along!
Having said that, our rough plan is as follows:
On March 25th — my 46th birthday — we'll leave Portland and head south. We'll probably save Oregon for the end of the trip rather than the start, so we'll be in northern California by the end of next week.
We'll spend the first part of April in northern California, exploring the Redwoods, wine country, and Yosemite. Plus we'll visit Kim's friends and family. Toward the end of the month, we'll move to southern California to do more exploring.
Next, we'll explore the American Southwest for a bit before turning north to the Denver area. We have lots of friends and family in Colorado, so we expect to spend a bit of time there before moving on to Yellowstone and Montana.
After Montana, we're not exactly sure of our route. We'd both like to peek at Alberta (we'll have our passports with us), but perhaps we'll make the trip U.S.-only and travel to the Dakotas.
In any event, we'll reach Minnesota by July, where we'll see several friends. We also have people to see in Wisconsin, Indiana, and Ohio. The summer is up in the air. What will we do? I half suspect we'll explore Kentucky and Tennessee, but who know?
We'll be in Charlotte, North Caroline in mid-September to attend Fincon, the financial blogging conference. After that, we intend to drive to Maine. For the next few weeks, we'll follow the fall color down the east coast.
We'll end up in Florida by mid- to late-October. After that, we'll make our way west-ish, visiting Atlanta and New Orleans and other sites of interest. Eventually, we'll reach Houston, where we have other friends we want to see.
As autumn moves to winter, we'll start heading home. I expect we'll revisit some of our favorite places in California and the Southwest before heading back to the Pacific Northwest. It's my hope that we'll take some time to explore Washington and Oregon before we return to Portland next spring.
So, that's the plan — such as it is. If I do a rough map of this plan, I get something that looks like this: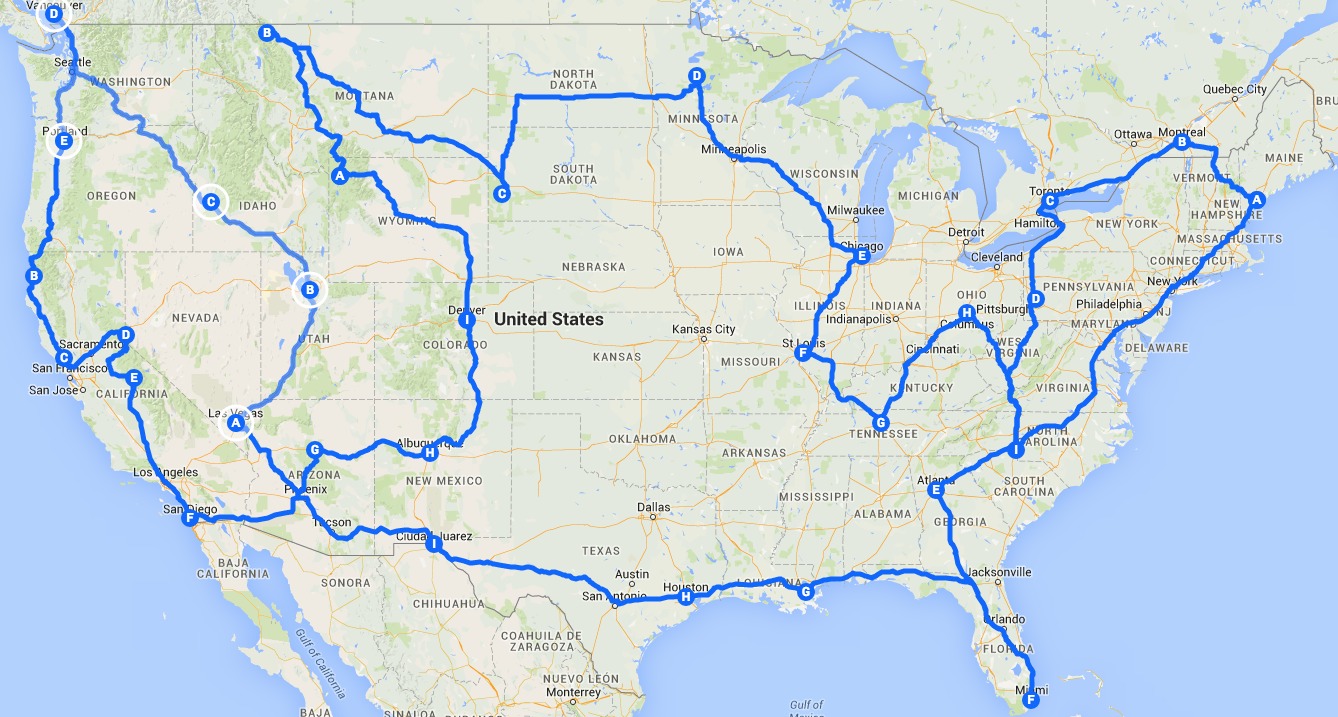 A rough guess of our itinerary
Our rough plan sort of resembles Randal Olson's optimal U.S. road trip — but only sort of. For us, it's not about optimization. It's about the spirit of adventure.
What does the future actually hold for us? Who knows? Maybe we'll hate the RV and call it quits after just two weeks. I doubt that, however. Somehow I suspect we might take even longer than twelve months to make it back to Portland. Wherever we end up, you can follow all of our adventures here at Far Away Places!