Things just got real!
Now that Kim and I have decided that we really can (and will) do this year-long cross-country adventure, we've started making big moves. Last week, Kim told her boss she'll be leaving at the end of March. We found a couple to stay in our condo while we're gone, and we've begun to pack up all of the things we won't be taking with us. Meanwhile, there are dozens of little chores to occupy our time.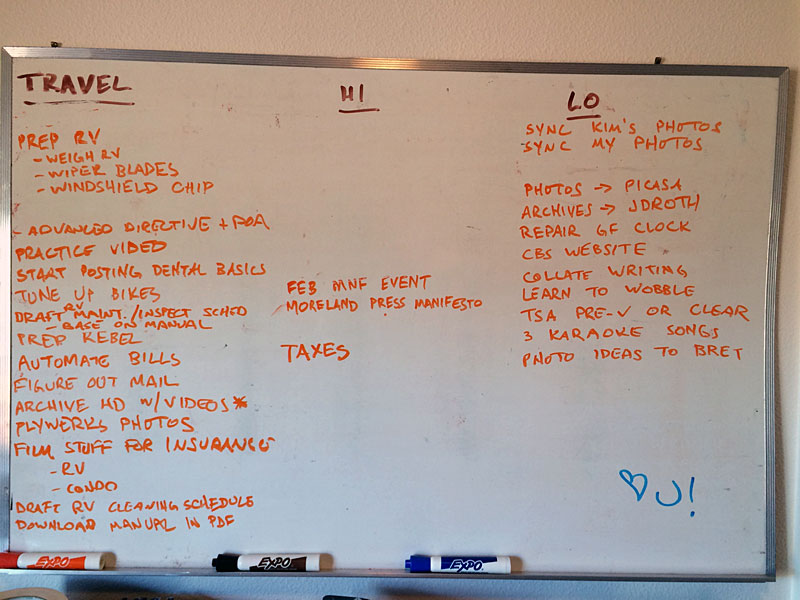 Our to-do list seems never-ending…
Ideally, we'd rent out our condo while we're away; it would be nice to have the extra income. The problem with this idea? Our HOA limits the number of units that can be rented, and we're second on the waiting list to be able to have tenants. Instead, my friend Tyler Tervooren and his wife will act as live-in caretakers while we're on the road.
To prep for Jess and Tyler's arrival, Kim and I have begun packing up all of the things we're not taking with us. We're cramming dozens of boxes into my tiny 120-square-foot office: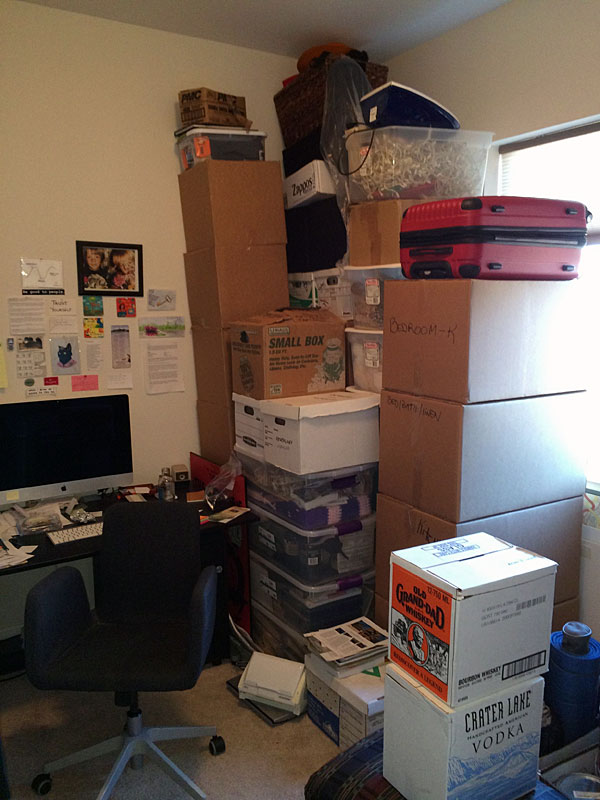 Some of these stacks are precarious…
Right now, it's a little tough to know what to pack and what to take, especially with clothing. My solution? I've gone through my wardrobe and toiletries and picked out the things I think I'll want on the road. For the next few weeks, I intend to use and wear only these items, to pretend that we're already living in the RV and I'm limited to what I have with me. Then, just before we leave, I'll make some final decisions about what to carry for a year.
Prepping the RV for the trip is a continual process. As we find new issues that need to be addressed, we address them. We had the roof leak repaired right away, of course, and we've fixed the loose pipe fittings. But why did the truck battery die during our first trial run? How do we repair the screen door? Why won't the radio work? How will we store the RV cover while we're on the road? And so on…
We have to cancel some bills and subscriptions, prepay some, and automate others. We need to figure out how to handle our mail. We need to write instructions for Tyler and Jess. We need to draft cleaning and maintenance schedules for the RV, and draw up checklists so that we don't forget anything when we arrive (and depart) from camping spots. We need to take care of our taxes. We need to prep our motorcycles for storage. We need to tune up our bicycles. The to-do list seems endless, and it's all I've been focusing on for the past two weeks.
I spent all of last Saturday, for example, hanging out at Camping World in Wilsonville, waiting to have a tow bar and hitch receiver installed so that our Bigfoot can tow my Mini Cooper.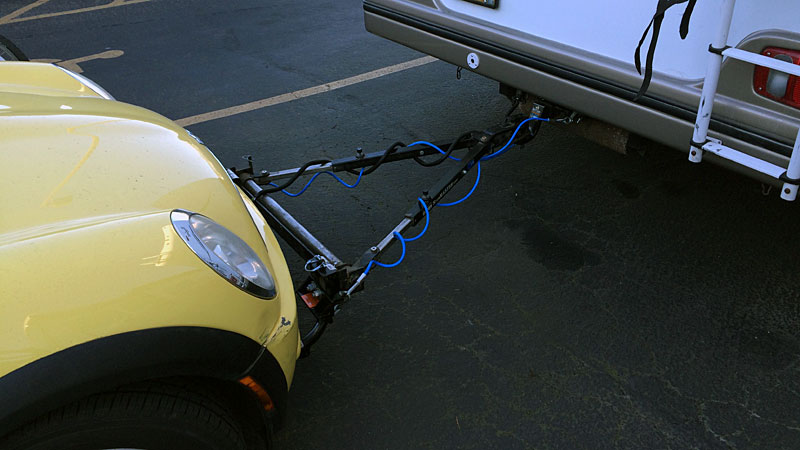 Now the challenge is learning to hitch and unhitch quickly…
Things went fine (albeit slowly) until it came time for me to test everything.
On my first lap around the Camping World parking lot, I realized I was dragging the Mini Cooper through corners. I hadn't put the key in its ignition, so the steering was locked. Oops.
I put the key in the ignition and switched it on, which prevented the steering from locking — but introduced a second problem. You see, the doors lock automatically when the car is in motion. So, on my second lap around the parking lot, I managed to lock myself out of the car. Oops.
I towed the Mini Cooper to Canby, where I paid a locksmith to open the car and to cut a second backup key. Now, in theory, the RV and Mini are set to go. (I may want a supplemental braking system on the car. We'll test the whole towing setup on our next test-run in early March.)
We've also spent a lot of time planning our route. Well, maybe the word "plan" is a bit strong. We're brainstorming, I guess.
I've created a custom Google map for the trip. The map has several layers, such as:
National Parks
Thousand Trails campgrounds (membership RV parks around the country)
Potential events (such as the Montreal Jazz Festival)
Suggested sites (recommendations from friends and family)
Planed stops (dates and places we're fairly certain to meet)
Invites from friends (folks who've asked us to swing by)
We can show or hide map layers, as we wish, which allows us to get a feel for what's ahead of us and where we might want to go: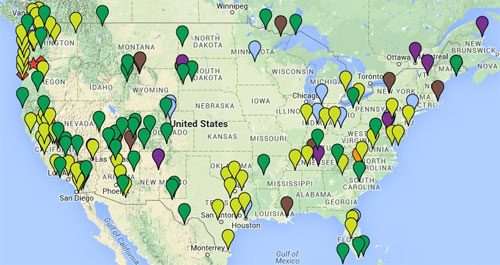 There are so many people and places to see!
Note: We'd love to visit you too, when we're in your area. If you'd like to have us stop in and say hello, please let us know.
Finally, we've been working on this website. We've been posting articles for the past several weeks, of course, but this blog is still in rough shape. We've now told a few folks about it (which is why you're reading this, right?), but haven't made any big announcements. Before that happens, we want to tweak the layout, set up the ability to subscribe, and make the place feel more like home.
As you can see, we have a lot of work to do before we leave. In fact, there's so much to do that it's sometimes tough to know where to start. Right now, it feels like we're playing "whack-a-mole", smacking down whatever task seems most pressing: tow bar! "start here" web page! stuff out of storage! And so on.
There are just over four weeks until we launch on this big adventure!