After months of searching, Kim and I finally purchased a motorhome that seemed almost ideal for our needs: a 29-foot 2005 Bigfoot 30MH29SL. On a rainy Saturday morning in mid-January, we drove to the previous owner's house to take delivery.
"I guess I didn't fix that leak as well as I'd thought," Mike said, pointing out a damp spot in the front corner. "But I don't think it's too bad, especially if you get it home and get the cover on."
"No worries," I said. "We'll get it fixed as soon as possible." I'd mentally prepared myself that leak would be an issue to be addressed before we started our cross-country trip. Sure, I felt some panic as I watched the water stain spread, but I also knew there was nothing that could be done at this point. No use freaking out.
I drove the RV back to our condo while Kim followed. This short clips shows the RV on the way home (plus a bit of the roof leak):
Meeting Bigfoot
At home, we quickly covered the RV to protect it from the heavy rain. (RV covers are curious things, by the way. Imagine a cover for your barbecue grill. Well, an RV cover is almost exactly the same thing — only much, much larger.) Then we fired up the generator and got to work.
First up, we cleaned the Bigfoot from top to bottom. We scrubbed the fixtures, and we vacuumed and shampooed the carpets and upholstery.
Next, we bought a bunch of containers to maximize our storage space, both inside and outside the coach. (Our rig has a surprisingly large "basement" area where we can store things we don't need frequently, such as off-season clothes, exercise gear, extra food, and so on.)
Finally, we spent some time familiarizing ourselves with the systems. We opened and closed the slide-out. We turned on the generator. We opened cupboards and poked buttons and read manuals. It was like playing with a great big toy.
"What are we going to do about the leak," Kim asked.
"I'll call All RV," I said. "They inspected two RVs for free, and I want to give them our business." I left a message describing our problem and asking for a call back. We waited. And waited. And waited.
Patching Things Up
On Monday morning, I called back and left another message. "We need to get the leak fixed," I said, "and today's the only day we can get down there." When we hadn't heard back by noon, we had to try a different route. We googled for another RV repair place and found one nearby.
"Bring your rig over and we'll take a look at it," the woman at Rose City RV told us. Within half an hour, the owner was climbing on the roof.
"Yeah, I'm not surprised you have a leak," he said, peeling back a piece of sealant. "This all needs to be pulled off and replaced. And look at these lights. See how there's mold inside? That's another potential leak. And here at this crack, there's nothing to prevent water getting in."
He spent some time poking around inside our RV. "The damage isn't bad at all," he said. "This is a good rig. We'll get it fixed and you'll be ready for your trip across the country."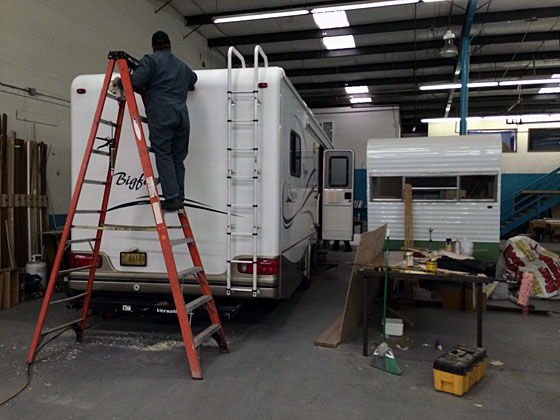 "How soon will it be ready?" I asked.
"By Valentine's Day," he told me.
"That sucks," Kim said when I told her how long we'd have to wait. "It'd be nice to do more work on it. But I guess this way we have free RV storage." We both laughed. Finding a safe place to store an RV can be a challenge, especially when you live in a condo in the middle of the city. My ex-wife had volunteered to let us keep the RV at her place, but we didn't want to impose on her. (Plus, her neighborhood has had a rash of break-ins recently.)
We were pleasantly surprised to get a call just a couple of days later. "Your Bigfoot will be ready to pick up on Saturday," the woman told us. "And while you're out here, Robert will go over some RV basics with you."
Kim and I re-arranged our schedules so that we could spend the weekend prepping the RV to get on the road…