After a week in Montana's Flathead Valley, we've moved on. For the first three months of this trip, we've stuck mainly to places we know: West Coast mountains and forests. We love this region, but now it's time to explore the unfamiliar. That means crossing the Rocky Mountains and entering the vast Great Plains of the central United States.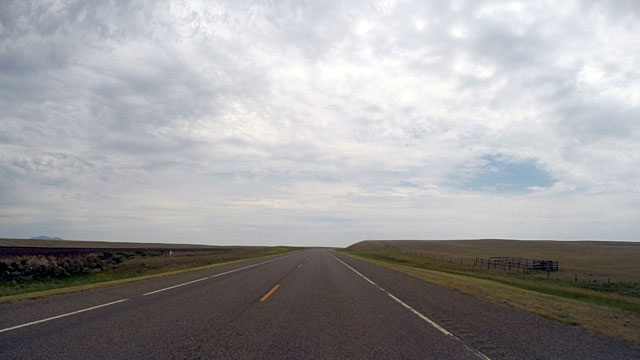 For the next week or two, we'll see lots and lots of this…
When early European explorers first entered this region, they didn't call it the Great Plains. They called it the Great American Desert, which ought to be something of a clue as to why the area east from the Rockies to the Missouri River is so sparsely populated. Where it's not arid, it's at best semi-arid. The Dust Bowl that wreaked havoc on the prairies during the 1930s would not have surprised any of the early settlers. (Read the works of Willa Cather if you want to know what life on the prairie was like in the late 1800s.)
We think of this as farmland and grassland now — in fact, the region now contains twenty National Grasslands administered by the Forest Service — but it hasn't always been this way. Only smart farming practices and strategic planting of non-native grasses keep the central U.S. from reverting to desert.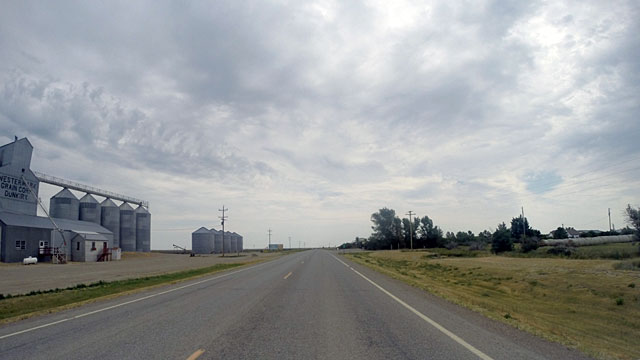 Every twenty or fifty miles, we'll also see this…
In any event, this area is vast and empty-ish. It's one of the most sparsely populated areas of the United States, and the terrain varies but little. In some areas there are rolling hills covered in grass, but in others there's just flat land covered in grass. Or corn. Or wheat. Or soybeans. The air is hot and humid in the summer. In the winter, it's cold and snowy. There are few rivers and fewer mountains. As I said on Facebook, "There's so much nothing here."
This nothingness will be our home for the next week or two. We'll make our way through eastern Montana to North Dakota. From there, we'll move south to the Black Hills of South Dakota (a series of islands in the sea of the prairie). Will we visit Nebraska? Kansas? Maybe, although Kim is lobbying against it.
Eventually, we'll make our way east across the prairie to Iowa and Minnesota. I'm not sure there'll be much to write about until we reach those states. Stay tuned…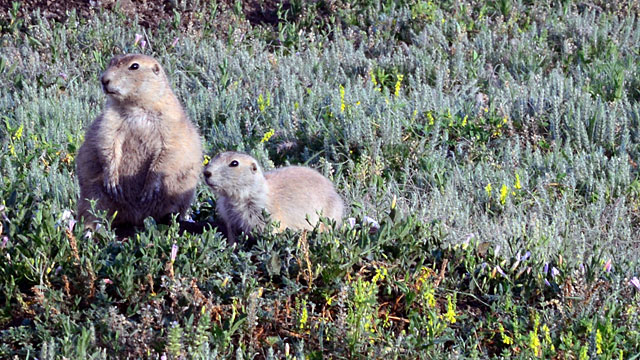 At least the prairie has prairie dog towns. The varmints are pretty darn cute.