Note: This update comes from Kimberly, the fairer of half of the Rothwards.
I'm having a moment. Sitting outside enjoying my wine while dinner is cooking, I realize that I've entered my "country self".
When you're camping every day, you have to reach a place of acceptance. With the weather and your surroundings — and definitely with the dirt — you learn to appreciate what's around you and settle in.
Things get dirty when you camp. In fact, everything gets dirty, the least of which is the RV: feet, chairs, bikes, orifices. Especially orifices. I had forgotten what it's like to blow brown snot out of your nose every day. But I don't care. I'm free, and I'm soaking in everything our surroundings have to offer — wherever those surroundings happen to be for the night.
Recently, that's meant soaking up the sun and finding water to drink and to play in. If we have a swimming pool or river, life is good.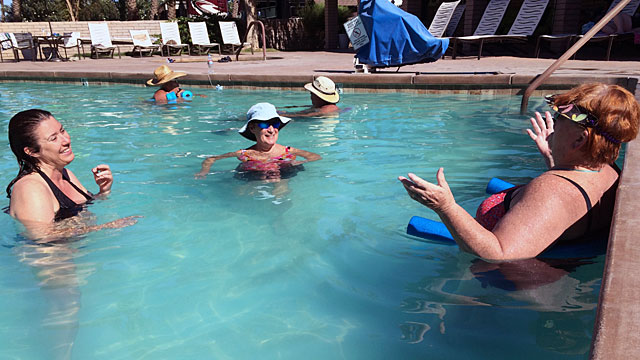 I'm a water baby. If there's a river or pool, I'm in it.
Dry Camping
After six weeks in RV parks and family driveways, we've arrived at our first "boondocking" or "dry camping" experience of this trip. We're staying on Forest Service land just outside of Grand Canyon. It's free to camp here, but there's no water, sewer, or electricity. We're completely self-contained: just us, the Mini, and the RV. Think of it this way: Staying in an RV park is like living in an impromptu village; boondocking is like living in the middle of the country. It's rustic and it's quiet. Yes!
This is the type of camping I remember fondly from my youth: collecting firewood, cooking outside, and looking at the evening stars. It's also using water sparingly, which means taking "spit baths" until I can't stand my dirty hair any longer. It's fantastic.
I love getting back to nature.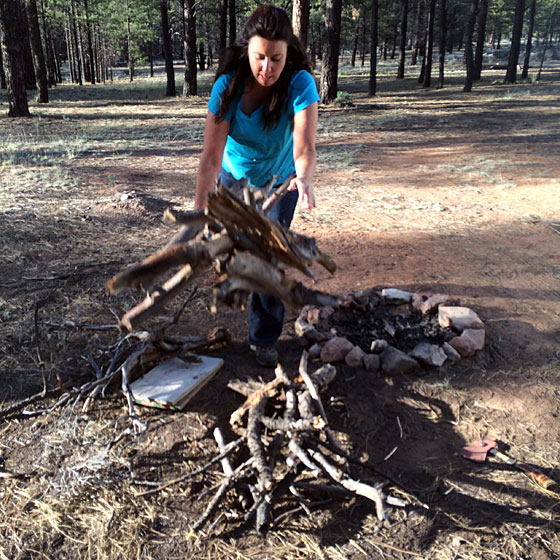 On our first night dry camping, I gathered wood and built a fire.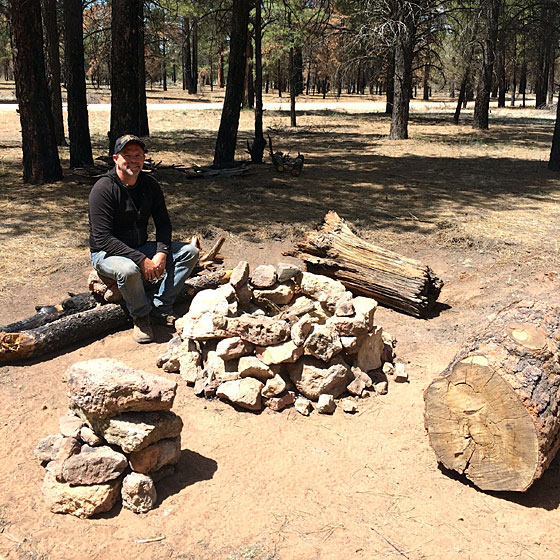 The next night, J.D. gathered all of this wood and stone by hand
to create a super-deluxe campfire circle.
Note: We're still trying to figure out the electrical nuances of the RV, especially how to keep the fridge cold without draining the battery during long travel days (or when we're dry camping with no access to electricity). Can we just turn on the propane and turn off the battery? We don't know, and no amount of reading has helped us figure this out. (If any of you know the answer, I'd love to hear from you.)
Disconnecting
One of my favorite parts of this trip has been disconnecting from all of the technology that permeates our lives. Our cell service is sporadic and internet access almost impossible to find. I'm okay with that.
It's tougher for J.D. because he's accustomed to connecting with people through his blogs and Facebook. I couldn't care less. To me, Facebook and other forms of social media are just tools for family and friends to know we haven't driven off a cliff or something. Even when we're able to locate a cafe advertising FREE WI-FI just to handle bills, e-mail etc, it's a laborsome experience that tests our patience. So slow!
I'm totally fine without all of it. Mostly.
You see, being disconnected from virtual reality makes me feel more connected with actual reality. Stepping away from the craziness in life, spending hours, days, or months in nature is a sure-fire way for me to get re-connected.
So, this post is just a reminder: Breathe. Remember what's important in life — and to you.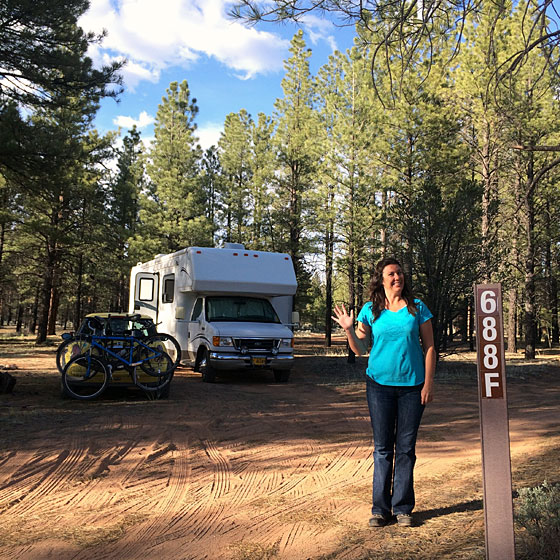 Sending you good thoughts from Forest Road 688F, just south of Grand Canyon!