"No mystical energy field controls my destiny. It's all a lot of simple tricks and nonsense." — Han Solo, Star Wars
I'm fortunate to have seen a lot of spectacular sites around the world. I've hiked to Torres del Paine in Chile, stood above Machu Picchu in Peru, watched Victoria Falls thunder across the Zimbabwe-Zambia border, and bathed in the mineral waters of Pamukkale in Turkey. But until we started this RV trip, I hadn't seen much of the beauty my own country has to offer.
Standing before Torres del Paine
Since we left Oregon six weeks ago, Kim and I have visited seven National Parks and several National Monuments. (Earlier this week, we visited three National Monuments on one day!) Each of these sites has its own special charm, although some — Yosemite, Joshua Tree — are more charming than others. But yesterday I was reminded that you don't always need to go into a national park to find jaw-dropping natural beauty.
Energy Vortexes
Nearly twenty years ago, Kim and her then-husband Rob lived in Flagstaff, Arizona. When Kim and I began in 2012, she raved about the area, particularly Sedona, a small town half an hour below Flagstaff.
"It's a special place," she told me. "Almost spiritual. I'm not the only one who thinks so. For centuries, people have recognized the positive energy around Sedona. It's magical — probably because of the vortexes."
Vortexes?
That's right: Sedona is known for its energy vortexes (or vortices, if you prefer), and people flock here for spiritual rejuvenation. You can pick up vortex maps from local shops and visitor centers, and you have to compete for parking at the most accessible vortex sites. Even folks who aren't much into mysticism sometimes sense the energy. Kim's father visited her in Flagstaff once, and they went for a hike near a vortex. He had a headache and wasn't feeling well when they started their excursion, but after sitting near the vortex for twenty minutes, he felt fine.
After hearing Kim rave about Sedona for the past three years, I sort of expected to be let down. At first, I was.
Seeing Sedona
We pulled into Verde Valley RV Resort (in Cottonwood, Arizona) on Monday afternoon in the middle of some wild weather. We set up camp while dodging rain (thick and heavy, unlike Oregon's light mists) and keeping a close eye on the nearby electrical storm. The next morning, we took in local sites such as Montezuma Castle (a cliff dwelling that has nothing to do with Aztec anything), Tuzigoot (an ancient pueblo), and Jerome (an old mining town turned tourist trap).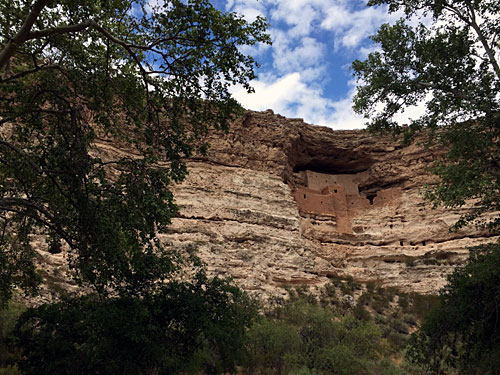 Ruins of cliff dwellings at Montezuma Castle National Monument
On Wednesday, we drove into Sedona.
As we approached the town, the red rock formations came into view. Hills and mountains of sedimentary sandstone have, over millennia, eroded into fantastic and colorful shapes. They stand like rainbow-hued islands in the beige sea of the surrounding high desert. As beautiful as they are, they draw a lot of tourists. Like us. As a result, the town of Sedona has exploded over the last twenty years.
"Wow," Kim said as she drove past strip malls and resorts. "I can't believe how things have changed. None of this used to be here." We stopped at the Chapel of the Holy Cross to take in a view of the surrounding area. It was pretty, no doubt, but as I said earlier, I kind of felt let down. It was nothing compared to other places I'd been. It didn't seem worth raving about.

The Chapel of the Holy Cross in Sedona
We drove up to the energy vortex near the airport, but couldn't find a place to park. We drove on. "Let's go for a hike," Kim suggested. "I know a good one back behind Sedona." She turned onto Dry Creek Road, then onto Long Canyon Road. We parked at the Devil's Bridge trailhead.
We followed the trail gradually uphill. After about a mile, we reached a rocky forest service road. There, the trail became steeper as it climbed Dry Creek. Along the way, we admired the scenery. Every few hundred feet, our prospect changed. The view shifted. And each view offered something new to marvel at. We were surrounded by colorful mountains and towering rock formations.
As we neared Devil's Bridge, the trail became steeper still. We scrambled up the slope, greeting other hikers as we passed them, until we stood atop a natural rock arch with a sweeping view of the valley around us. I was in awe. This was a view worth raving about. In fact, I thought it was the most stunning scenery I'd ever witnessed, a crazy-quilt patchwork of reds and greens and browns and blues and whites.

Devil's Bridge behind Sedona (click for larger version)
Soaking it in, I felt the positive energy surging in the rocks and trees around me. I understood why people have admired Sedona for centuries, and why they talk about the presence of vortexes. From where I stood, it all made sense.
Semi-Retired
We drove home (home!?!) to the RV park still seeped in the positive energy from our hike. I poured myself a beer and Kim filled her red Solo cup with sauvignon blanc. We drove (drove!?!) over to the hot tub and settled in.
There we chatted with a fifty-five year old massage therapist from Colorado. She's something of a drifter. She came here in November and has made ends meet by giving massages in the nearby town of Cottonwood. She's ready to move on, though, and is thinking about relocating to central Oregon. We gave her some advice about the area.
The three of us fell silent and turned our heads to the sky. We watched a flock of white-winged birds swooping above us, eating their insect dinner. We looked at the stars and tried to pick out constellations.
"Which star is that?" Kim asked, pointing almost directly overhead.
"I don't know," I said. "These aren't my stars." The sky here in Arizona is different enough from the one in Oregon to be confusing. Plus it's been years — decades! — since I paid this much attention to the sky. (Later I figured out we'd been looking at Regulus, which explains why I was confused. It's not a star I've ever known. It's a winter star where I'm from, not a summer star. It's never out when Portland skies are clear.)
The massage therapist left and a rugged young-ish man joined us. ("Young-ish" at an RV park means late forties or early fifties.) He introduced himself as Adrian and told us he was semi-retired. "I used to be a software consultant on the east coast," he told us. "But it was all too much. I came to Sedona for a contract job eight or nine years ago and was drawn to the energy of the place, by its spirit. The east coast has no spirit. I knew I wanted to live here. So I saved up so that I could move out."
"What do you mean when you say you're semi-retired?" I asked.
He smiled. "I mean I don't have to work, but I want to. I live here in the RV park and I give private tours around Sedona. I take people where they want to go. I don't have fixed prices. People pay me on a donation basis. I'm my own man, and I like it."
"Yeah," I said. "I call myself semi-retired too. As long as I watch my spending, I have enough money to last a long time. And if I pick up work that I want here and there, I'll be fine." Adrian nodded.
When Kim and I went to bed a short time later, we could still feel the positive energy. "It was a good day," I said.
"Yes it was," Kim agreed.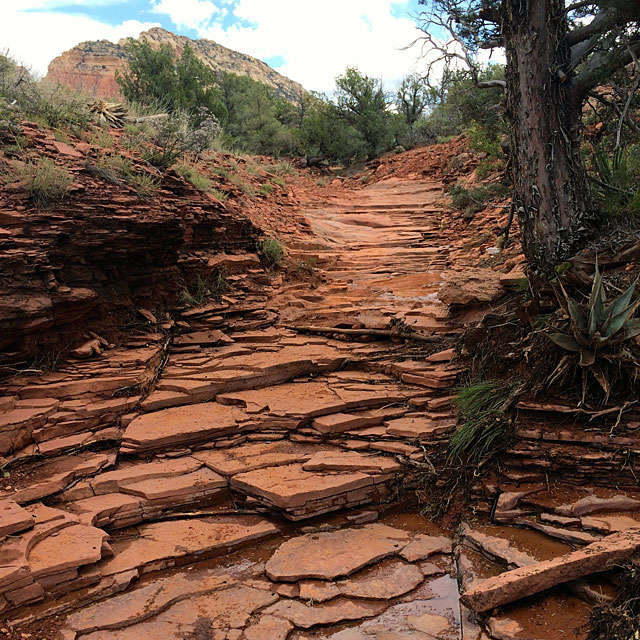 The aptly-named Dry Creek trail
Inner Energy
Thursday morning came and neither Kim nor I felt like doing anything. "Let's take a down day," she suggested. So we did.
Kim lay out by the pool. She sunbathed and journaled and read her book. I took care of some minor repairs on the RV and cleaned the inside of the motorhome. I did some writing.
In the afternoon, I joined Kim by the pool. When she went back to make herself some lunch, I eavesdropped on a nearby conversation. The couple next to me come from our neck of the woods: the Pacific Northwest. Brian and Linda live across the Columbia River from Portland and an hour toward the coast, where they operate a small bed and breakfast. They've been RVing off and on for nearly twenty years, and have come to prefer a more compact style of travel.
Note: As you might expect, there are different types of RVers. Some prefer luxury accommodations. We've heard of folks with motorhomes that contain gas fireplaces and second bathrooms. We've seen rigs with showers that rival those found in fine hotels. On the other end of the spectrum, there are folks who prefer to be more tied to the outdoors. They tow small teardrop-shaped trailers that have a bed inside and an outdoor kitchen. Most RVers fall somewhere between these two extremes.
Brian and Linda drove to Arizona to pick up their new RV, a used R-Pod. After picking it up in Kingman (or Phoenix? — I can't remember), they brought it over the mountains to the Verde Valley. But as they did, their truck began to overheat. The truck was at a shop in Cottonwood, and they had no way to retrieve it.
I walked over and introduced myself. "I'm from Portland," I said. "I heard your dilemma, and I'd be happy to help. It's not problem to give you a ride to pick up your truck."
"That'd be great," Brian said. They invited me to sit down and chat with them. We talked about travel, both in the U.S. and abroad. They told me about their children and the foreign-exchange students they'd hosted over the years. We compared notes on Machu Picchu and Paris. I asked them where Kim and I should go on this trip. (Brian pointed to his t-shirt, which advertised Arizona's Petrified Forest National Park.) We commiserated over how much we hated traffic in big cities. Later, I gave Brian a ride to pick up his truck and we talked some more.
"Thanks," he said as I dropped him at the shop.
"No problem," I said. "Happy to help." And I was. I felt warm and fuzzy inside. I was full of positive energy. It was as if I'd created my own vortex here in Cottonwood. Or maybe somehow someway the positive energy from Sedona had bled a bit to the south…