Wow! We've had a crazy week. Initially, we had intended to park ourselves for ten days in Idyllwild, tucked in the mountains between Palm Springs and San Bernardino. We were going to visit with Kim's family while also taking several days to rest and relax. Plus, we were both going to get caught up on our writing.
That's not how things turned out.
First of all, last Friday's trip from Santa Barbara to Idyllwild took far longer than expected. Driving across the Los Angeles freeways, even in mid-day, was taxing. Traffic is heavy (and many drivers are both rude and reckless) and lanes are narrow. The drive took more than six hours (more than eight hours when you count packing and unpacking), and we went to bed exhausted.

It's difficult to convey just how much I hate L.A. traffic.
We had a bit of a rest on Saturday morning. On Saturday afternoon, we headed down the hill to Yucaipa, where we met up with Kim's cousins and their families. It was a lot of fun to hang around with James and Ginger and Chris and Stephanie, who showed us how downtown Redlands had become hopping and hip. (Something I never would have guessed twenty years ago.) We ended the evening with made-to-order flash-frozen ice cream at A la Minute, a place that seemed very very Portland to me and Kim.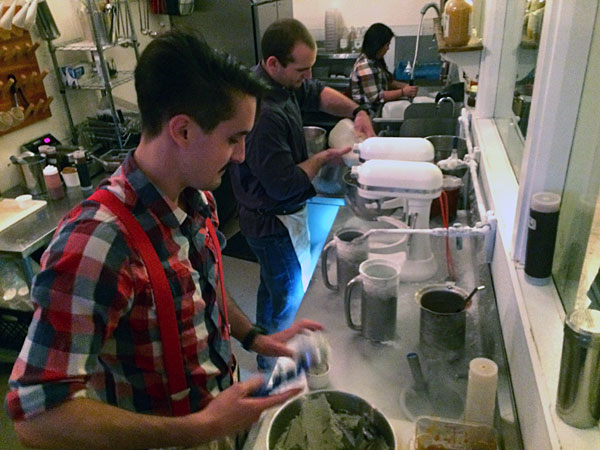 At A la Minute, your ice-cream is made to order with liquid nitrogen.
Driving home on Saturday night, we experienced our first misadventure of the trip. Halfway up the hill to Idyllwild (elevation 7200 feet at our campground), our trusty Mini Cooper began to sputter. As we entered the campground, the sputtering became worse. Then, just a few hundred feet from our campsite, the car died.
There was nothing we could do on a Saturday night. Nor was anyone able to help on Sunday morning. So, we put off dealing with the issue until Monday. But we still had to get back down to Yucaipa for a family barbecue on Sunday afternoon. Fortunately, James and Ginger came to our rescue, sending their son to pick us up and granting us use of their Mini Cooper (for which we are eternally grateful).
We had a relaxing Sunday afternoon as we visited with Kim's grandfather, aunt, uncle, and cousins.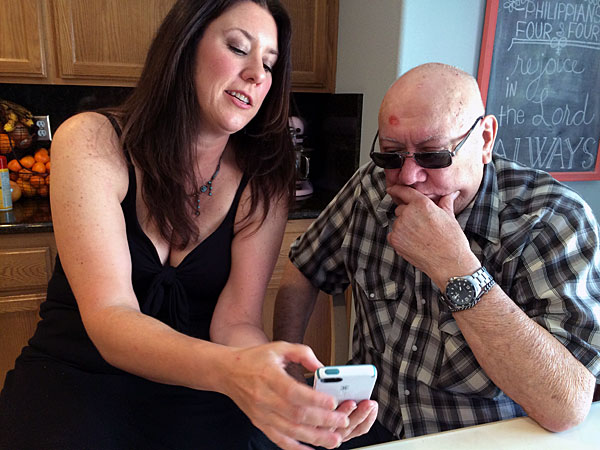 Kim shows her grandfather photos of our trip.
In some senses, Monday was a waste. We didn't get anything done that we'd planned to do — even though what we'd planned to do was rest. Instead, we managed to hitch our Mini up to the RV (with just a couple of inches to spare in the process). We towed the dead car down the hill to Indio, just outside of Palm Springs. There we left it in the very capable hands of Scott Escher at Escher Autohaus. (About whom, more in a moment.)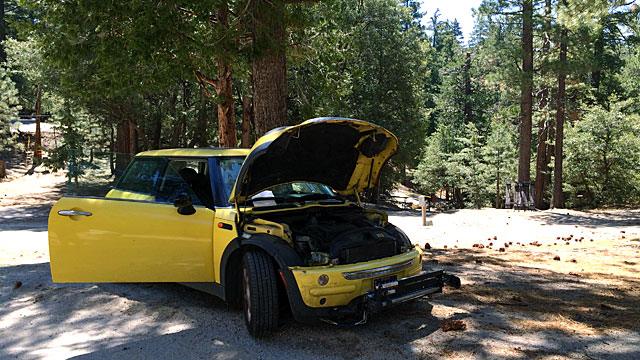 Here's where our poor little Mini came to rest.
We then checked in at a Palm Springs RV resort. The place was nearly empty because it's late in the season. Only full-timers remained. In the afternoon, we walked around downtown Palm Desert, which is actually bigger than Palm Springs — but far more unappealing to us. (Palm Springs has history and a quaint charm; Palm Desert felt pretentious to us, full of unhappy people putting on airs.)
Early Tuesday, we got a call from Scott Escher telling us that he'd repaired our Mini Cooper. Turns out the fuel pump had died. "Do you wait until the tank is empty to get gas?" he asked me. I do. "That's hard on the fuel pump," he said. "You should fill up when you've got about a quarter tank left." He charged us $600.58. I texted my ex-wife's boyfriend — he has experience as a Mini mechanic — to be sure that was a fair price. "That's a good deal!" he said.
And then the fun began.
We picked up our Mini Cooper and drove to Joshua Tree National Park. We've enjoyed our visits to the national parks so far, but haven't really been blown away by anything except Yosemite Valley. Well, Joshua Tree blew us away.
There are three entrances to the park; we chose to enter through the town of Joshua Tree. We drove south and watched as the landscape began to change. We marveled at the rock formations and the desert blooms. But we were most impressed by the joshua trees themselves. Kim and I think most desert landscapes are ugly; but with these strange plants and the rocks (and the storm clouds in the sky), this desert landscape was gorgeous.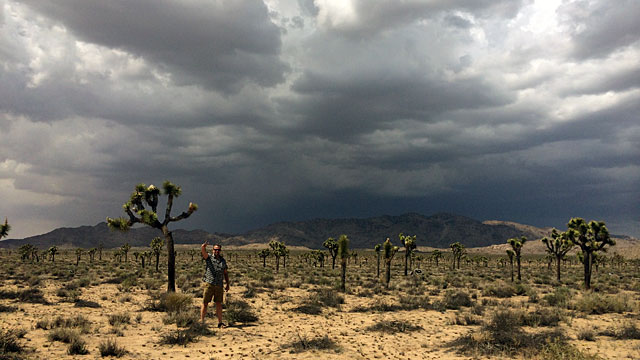 We were lucky to tour the park when it was cloudy and rainy.
The weather added texture to everything.
We took the side road to Keys View, where we ate our lunch while enjoying a panoramic outlook over the Coachella Valley, with vistas that reached almost to Mexico. After lunch, we continued to drive south to the Cottonwood entrance. As we did, we watched the landscape change, dropping from the Mojave Desert to the Colorado Desert (a subsection of the larger Sonoran Desert); the vegetation vanished and the landscape became more bleak.
After exiting the park, we made our way to Mecca, a small town on the Salton Sea. The valley gave way to colorful canyons, which in turn gave way to — shockingly — verdant vineyards and orchards of date palms.
We drove down the east bank of the Salton Sea, the largest lake in California. The lake is naturally occurring, but is unique. It forms when the Colorado River breaches its banks once every few hundred years. The water fills a vast basin — but then there's no other source to replenish it. The water gradually evaporates with time and the plateau becomes barren again. Except now the lake is surrounded by farmland, and is being filled by runoff from the vineyards and orchards. As a result, it's become, well, polluted.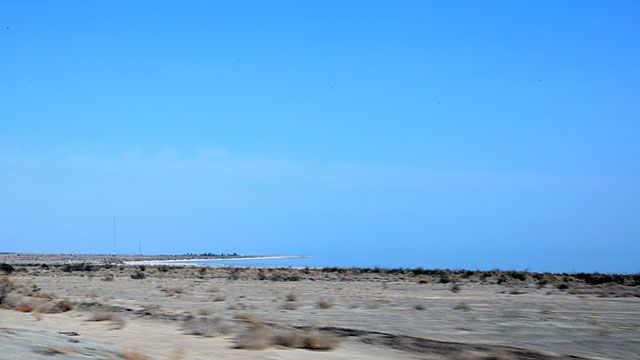 In this photo (taken from a moving Mini),
it's tough to tell where the Salton Sea ends and the sky begins.
Decades ago, the Salton Sea was promoted as a future resort area, California's Riviera. Not many people came (because, let's be honest, the surrounding area is ugly ugly ugly). Now there are all sorts of abandoned buildings and businesses. The towns are run-down, almost ghost towns. It's eerie (and smelly). The birds love it though. Kim thought that, from afar, the pelicans looked like swans on a lake, elegant and graceful.
Wednesday was busy too. Kim drove north to spend more time with her family. I stayed in camp to work on the RV. That meant a lot of crawling around underneath the motorhome, and some creative use of duct tape.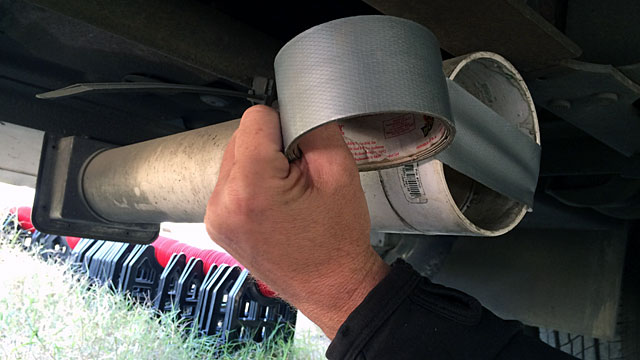 Patching the sewer pipe storage tube with duct tape…
We resumed playing tourist on Thursday. We drove down the west side of the Salton Sea and then cut toward the coast, passing through a variety of badlands (my first experience with badlands, actually) before reaching Anza-Borrego State Park. Anza Borrego is a region of desert and mountains. It is barren with a capital B. (So, Barren, I guess.) Yet people live here.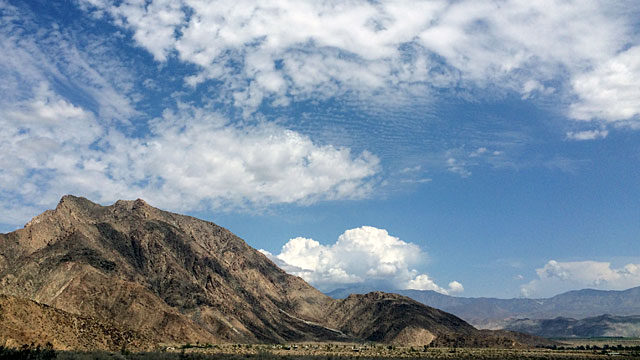 The mountains around Borrego Springs.
We drove the "exciting triangle", which included a short hike on the Narrow Earth Trail. I'm sad to say the "exciting triangle" wasn't very exciting. In fact, it was rather boring. The Anza-Borrego area can be beautiful, and it's certainly unique, but mostly it's a lot of empty space. Of course, our perspective was probably skewed because we'd been blown away by Joshua Tree just a few days before.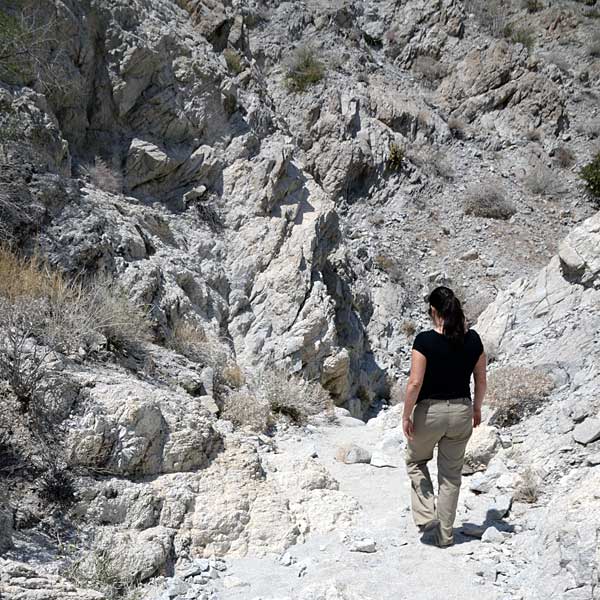 Hiking the Narrow Earth Trail.
In the afternoon, we drove back to Palm Springs, where we rode the aerial tramway to the top of Mt. San Jacinto. After enjoying the views, we descended to Palm Springs, where we stumbled upon the Thursday evening street fair filled with food and people and fun. We spent several hours enjoying the vibe.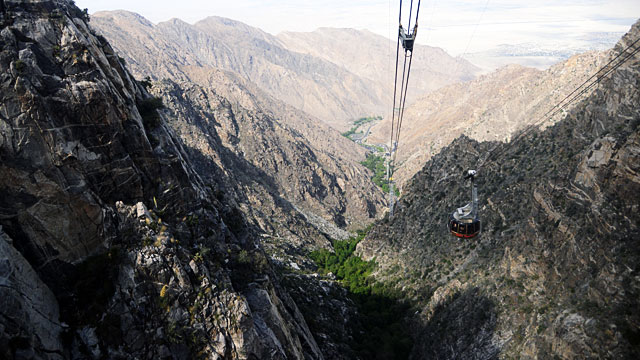 The Palm Springs Aerial Tramway.
Now it's Friday once again, and although we've had fun this week and enjoyed the company of Kim's family, we haven't obtained the rest and relaxation we'd aimed for. Nor have we written the articles and posted the photos we wanted to write and post. But that's okay. We'll find time to do it next week. Right?
For now, we're taking a vacation from our vacation. This RV park, which just yesterday morning was sparsely populated with older full-timers, has been overrun by dozens of twenty-somethings in town for a country music festival. They partied (loudly) late into the night, and kept right on going into this morning: Beer pong at 8am! Whisky shots at nine! Strutting and posing and flirting by the pool!
Kim and I can drink with the best of them, but we don't want to be around when this group is shit-faced by early afternoon, so we've packed a few things and are headed to Oceanside, where we'll spend a couple of nights visiting more of Kim's cousins (this time on her father's side). We'll be back here in Palm Springs on Sunday, though, at which time we'll pack up and move on. After a month in California, it's time to see what the rest of the American Southwest has to offer!