Hi, everyone. Kim here with my first-ever post at Far Away Places!
Last weekend, J.D. and I made our maiden voyage in the RV. We went into it like we'd go into any other trip. We had a general plan but left lots of wiggle room for whatever opportunities and experiences might arise. We both believe that when you travel, you have to be flexible and allow for the unexpected. Our philosophy is to "go with the flow".
Exploration is what I love most about travel. When you explore, you're exposed to new perspectives from both your own experiences and from the people you meet along the way. You're changed by the new things you see and do, but also by the interesting people you meet and the stories they tell you.
I've always loved to explore. When my brother and I were kids, we explored all the time, roaming the hillsides of California's gold rush country, discovering long-forgotten caves, riding horses and motorcycles, uncovering rocks and arrowheads and more. That spirit of adventure has never left me. Even as an adult, I love to explore.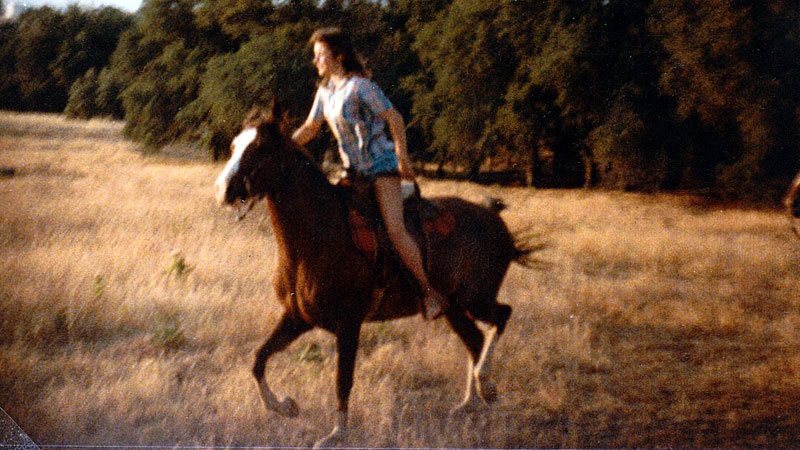 Young Kim, riding through the California countryside
When J.D. and I met, we were both traveling the world. I'd just got back from a trek in Nepal, and he'd begun to explore South America. Together over the past three years, we've been to France, England, Norway, Alaska, Hawaii, and Ecuador. It's fun to explore other parts of the world, but I think that sometimes we forget about our own backyard. That's why I suggested that we buy an RV. While we can, I want to take time to explore the United States.
But before spending a year driving around the U.S., we need to make some trial runs.
So, last Friday we set out for an RV park in Cascade Locks, located about 45 minutes from Portland on the Oregon side of the Bridge of the Gods. (If the Bridge of the Gods sounds familiar, that's probably because it's where Cheryl Strayed ended her hike on the Pacific Crest Trail in Wild.) When we arrived at the site J.D. had selected, however, we didn't like it. The spot was sandwiched between a railroad, a housing development, and "downtown" Cascade Locks. It wasn't exactly what I had in mind for a weekend getaway.
Instead, we chose Wind Mountain RV Park, across the Columbia River near Stevenson, Washington. It was a smart choice. At Wind Mountain, we got to experience another thing I love about travel: the sense of community that you can find in unexpected places.
Wind Mountain RV Park is owned by Rolf and Astrid, a couple from Holland. Twenty-five years ago, they spent a year traveling across the United States in an RV. They loved the country so much that they came back and did another trip. When they were done, they bought an RV park in the Columbia Gorge.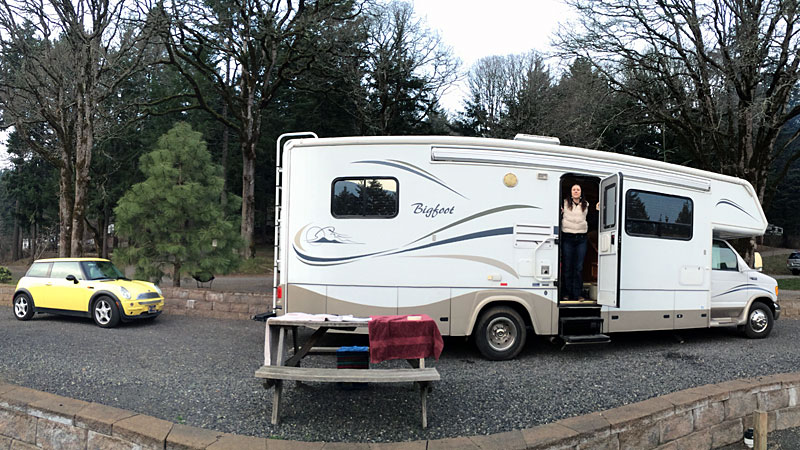 Our Mini Cooper and our Bigfoot RV (sorry for the photo bulge!)
From the moment we arrived at the park, we felt at home. Everyone we met was willing to help us. We felt what I guess you could call a sense of fellowship.
Because this was our first RV trip, we didn't know how everything worked. Robert, the RV park caretaker, spent an hour with us. He showed us how to hook up the electricity and sewer pipe. He showed J.D. how to operate the leveling jacks. He also helped us track down and repair a leak beneath one sink.
On Sunday evening, J.D. noticed that the women at the campsite next to us were prepping a week's worth of food. He went out and chatted with them about how they cooked in bulk while on the road. They told him they were from Minnesota, and had been living full-time in RVs for years.
When we were ready to leave on Monday morning, we discovered the truck battery had died. Rolf helped us jumpstart the RV. As we chatted with him, he realized we had no plans to use the motorcycle hauler on the back of the motorhome (it's too light for our bikes). He offered to trade us a towbar for the rack, which was a good exchange for both parties. (Now there's one less thing we have to find before we can tow the Mini Cooper!)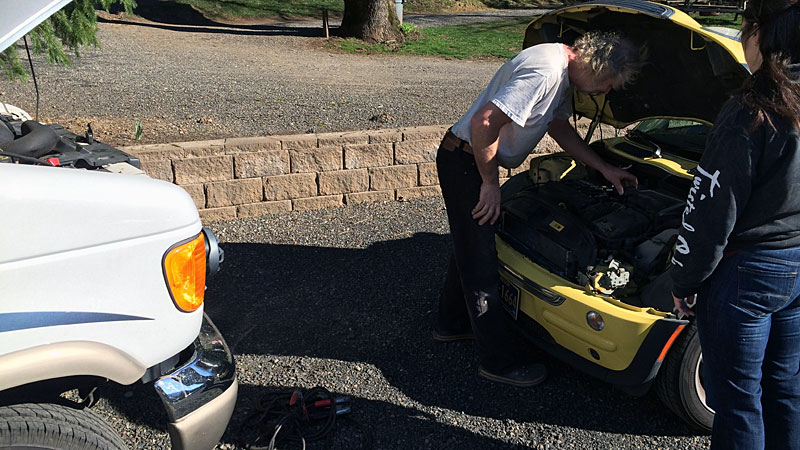 The ever-friendly Rolf helping us jumpstart the RV
Throughout the weekend, different people would stop by to say "hi". They'd listen to our plans, and then offer advice based on their experience. For instance, Astrid told us to leave a lot of time for Texas because the state is filled with great things to see and do. Every time somebody gave us a tip, we wrote it down. I'm keeping a notebook filled with these pointers and J.D. is putting together a binder with a page for each state. He spent part of the weekend tearing apart old travel magazines and tucking articles into the binder.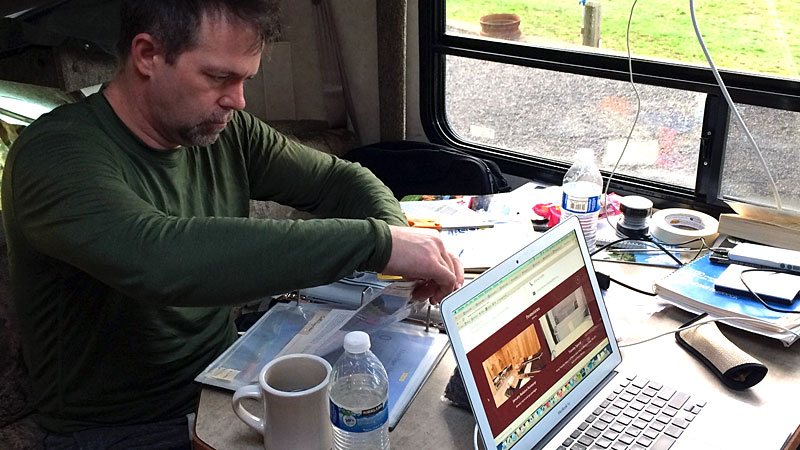 OCD J.D., assembling his binder with attractions sorted by state
We spent four days and three nights exploring the Stevenson area. We hiked in Home Valley Park and at Skamania Lodge. We visited both Carson Hot Springs and Bonneville Hot Springs. Plus we discovered Walking Man Brewery in Stevenson, which had good beer and delicious food.
Though it all, we got to experience RV living for the first time. We like it. Our Bigfoot motorhome is cozy but not cramped. It feels homey.
J.D. spent time organizing our "basement" storage in the compartments on the outside of the RV while I sorted things into cabinets inside the coach. I also got to experiment with cooking meals in a motorhome. It wasn't as bad as I thought it would be. It took a little thought and preparation, plus a bit more time since I could only really use two burners at once. But all things considered, cooking was fine.
Not everything was perfect, of course. Things went wrong, like the leaky sink and the dead battery. Plus we had to learn through experience how some things work. On Saturday, for example, we noticed water was backing up into the shower!
It didn't take long to discover the reason. Although we'd hooked into the RV park sewer system, we hadn't opened the valves from our motorhome. Our greywater tank was full. Whenever we used the sink, the water was overflowing into the bottom of the shower. That problem was easily solved by opening the valve. That's how we learned yet another lesson from RVing 101!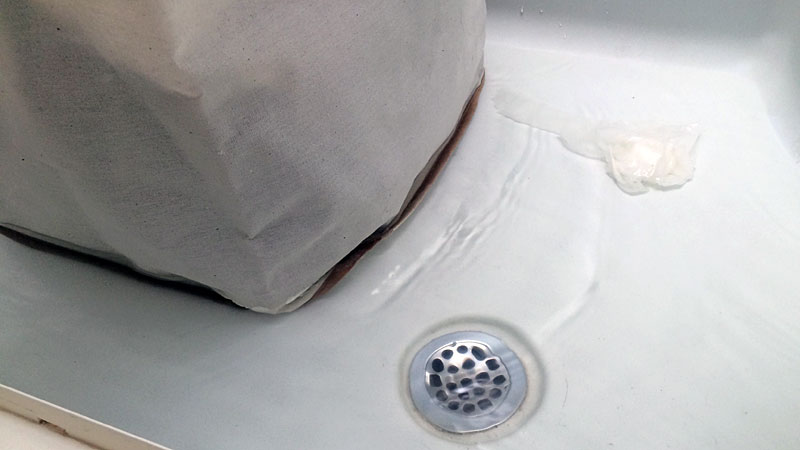 Here's what happens when you overfill the greywater tank…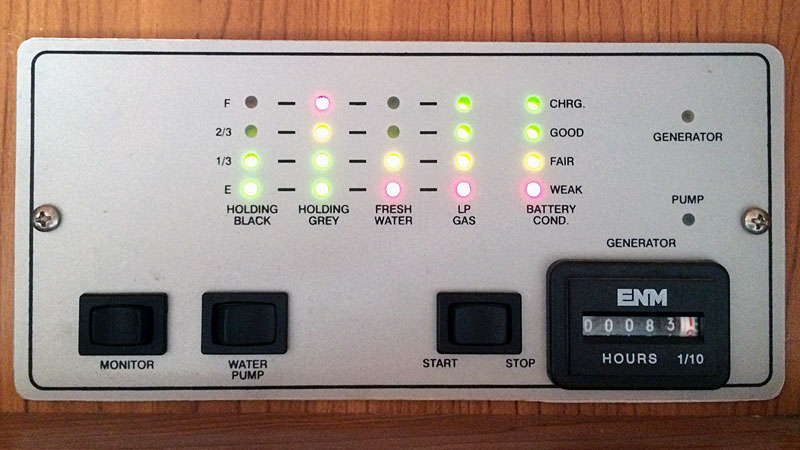 The control panel shows the tank is full…
After four days together in the RV, we feel ready. We still have to figure some stuff out (like why did the truck battery die?), but we're confident we can do it. We'll do another test trip or two during March. Then, on April 1st, we'll take off on the trip of a lifetime, our year-long drive around the United States. We can't wait!