Last summer, Kim and I hatched a plan to leave our lives here in Portland to traverse the U.S. and Canada by RV. After several months of research and contemplation, we'd reached a few conclusions:
We'd spend six months to a year traveling backroads, visiting friends and family, exploring National Parks, and documenting our journey along the way.
We suspected a Class C motorhome would be the best fit for us (but we were open to other options).
We had a budget of $40,000 to buy a used vehicle, although we hoped to spend less.
In early November, we spent a long afternoon at the Portland fall RV show. This was the perfect introduction to the world of recreational vehicles because we were able to tour dozens of different models at the same time, which allowed us to get a feel for the sorts of features we liked and which were irrelevant.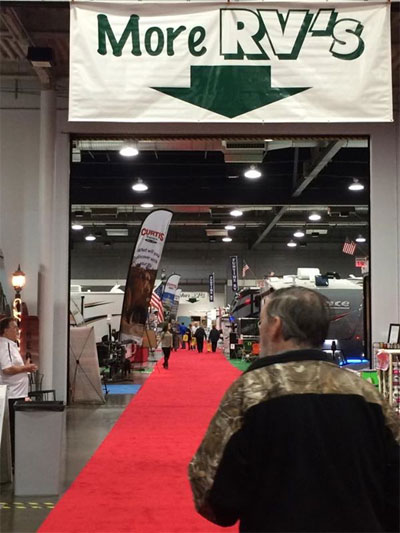 At the Portland fall RV show, we looked at dozens of RVs…
On the weekend before Thanksgiving, Kim and I moved from casually browsing RVs to searching in earnest. Our first stop on Friday afternoon was a consignment lot. We visited "Steve and Sons" out on 82nd Avenue to look at a 37-foot Class A 1998 Fleetwood "Bounder" ($21,500 and 51,000 miles) that I'd seen listed on Craigslist.
Note: RVs are divided into "classes". Class A RVs look like a bus. Class B RVs look like a van. Class C RVs look like a delivery truck. Each class has its pros and cons.
We didn't like the Bounder, but we did like the little 30-foot Winnebago (a "Minnie Winnie") sitting next to it. It was in our price range ($37,000) and relatively new (2003 and 33,000 miles). Plus the layout looked great and the quality seemed good — as far as we could tell.
Next, we dashed off to meet Sam and Donna, who were selling a 38-foot Class A Newmar Kountry Star. Their coach was gorgeous and in great condition. Plus, their price was reasonable: $27,000 (and 49,000 miles). In fact, they probably had the best price we saw all weekend. The problem? Well, 38 feet is a lot of feet. Driving the Kountry Star really is like driving a bus.
Plus, the Kountry Star had a problem. While we were chatting with Sam and Donna, I noticed that something seemed…wrong. There was some discoloration on the ceiling. When I poked a sagging ceiling tile, water seeped down my arm. Sam went outside and climbed onto the roof, where he was shocked to find the cover to the air conditioner had blown away. Yikes. Water had been collecting in the attic. (Turns out this wasn't an act of god. A prowler had been trying to break into RVs at the lot where this was stored. They caught him, but not before he damaged several vehicles.)
To finish our Friday, Kim and I drove out to Sandy to look at a couple of used RV lots. Nothing really appealed to us, though. RV lots tend to take in only recent models, and they mark them up by outrageous amounts. (It's not uncommon to find an RV at a dealer for $10,000 to $15,000 more than you can find it from a private party.)
Note: Kim and I weren't interested in buying new. Buying an RV is like buying both a house and a car — but combines the worst features of both without any of the advantages. The biggest downfall is that you take a huge hit on depreciation, just like you would from any other vehicle. One fellow we met said he figures RVs decline in value by 3% each quarter, so that in five years an RV has lost almost half its value. Our goal was to balance finding something recent (and quality) while trying to avoid taking a beating from depreciation.
On Saturday morning, we drove to Vancouver to look at two used RVs.
The first was a 29-foot 1996 Gulfstream Sun Voyager with 53,000 miles for $26,000. This Class A wasn't bad — and we liked the owner — but it just didn't seem to be a good fit for us.
The second was a 30-foot 1996 Gulfstream Conquest LE with 25,000 miles for $20,000. This Class C seemed ragged around the edges. Plus, the price was high.
We met the owner of the Gulfstream Conquest in the corner of a Costco parking lot. He offered to let us take the rig for a spin, and we accepted. I drove the RV around local surface streets — my first time behind wheel of any recreational vehicle. It wasn't bad. It felt like driving a U-Haul.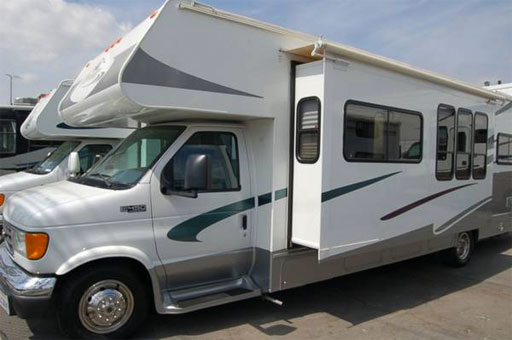 A typical RV we saw during our search: a 2004 Forest River Forester
Next, we drove down to Tigard to meet a fellow with a 28-foot 2004 Fleetwood Tioga. This was a beautiful coach in tip-top condition. Plus, the owner seemed like a nice guy. But he'd purchased the unit new from a dealer three months before, so his asking price was high ($40,000 and 29,000 miles). We liked this vehicle, but not at his price.
By now, we'd refined our search even further. We knew we wanted a class C RV between 28 and 32 feet. At this length, we'd get a back bedroom that separates from the front end of the vehicle, which would allow for one person to sleep while the other read or wrote or cooked. Based on our budget, that probably put us in the 1998 to 2004 range.
After a quick stop to taste some sparkling wine, we visited another RV dealer. We were severely unimpressed with the options, so we returned to the place we'd started. We drove back to Steve and Sons to look at the Minnie Winnie we'd liked on Friday.
We spent half an hour examining the vehicle, and there was no doubt we liked it. But a couple of things happened that really turned us off from the dealer.
First, we had called to say that we wanted to test-drive the vehicle. But when we reached the lot, it was buried behind several other trucks and RVs. No effort had been made to allow us to run the rig. The obvious question was, "Why not?"
Next, we were under the impression that the dealership was selling consigned vehicles. That wasn't the case. The salesman confided that the dealership places ads on Craigslist in the "for sale by owner" section because they think people will trust the ads more. But they're not for sale by owner. Nor are they consigned. The RVs are bought at auction and then put on the lot. Whoa… Huge red flags!
Kim and I decided to call it a day. We headed home (well, actually we headed to a champagne bar) better-educated but no closer to purchasing an RV. After a weekend of RV shopping, I'd let go of my need to find the perfect coach. But I still hoped to find a quality rig at a reasonable price.